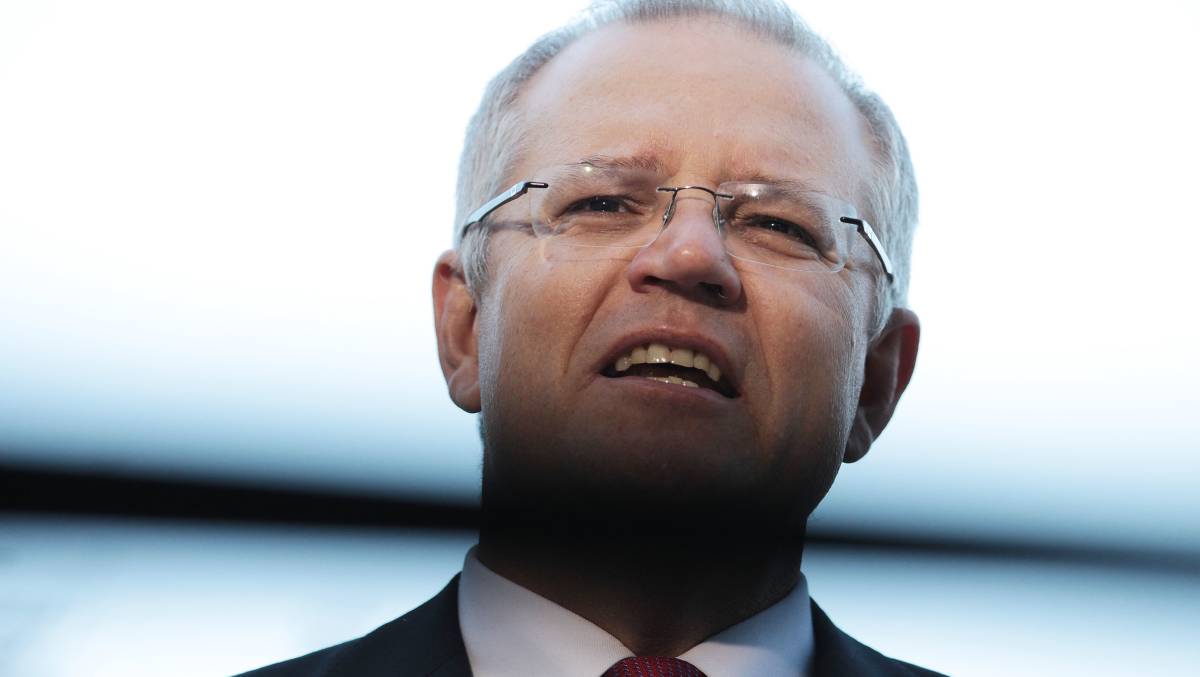 Budget 2017 : how will you in the Moreton Bay Region be affected ?
The Federal Government Budget has been delivered and what its its effect on the bottom line of hard working Moreton Bay Region residents.
On the surface a "very Labor" styled budget and a reset on the 2014-15 and the 2015-16 Federal Budgets in design to silence critique by members opposite in the Federal House of Representatives.
In summary for the Moreton Bay Region where we could gain the most will be infrastructure and housing sectors provided any arguments for funding should have already been expressed.
With a housing shortfall being the centre argument any one contemplating a first home will be the big winners with this budget.
The Bruce highway will have $844 Million a portion of that for the Moreton Bay Region, of course this highway is a huge highway starting in Brisbane and extends all the way up to Cairns and so any moneys will be allocated on a urgent needs basis. What we do know is the upgrades for Pine Rivers to Caloundra and the Deception Bay interchange are funded by this budget
Conditional Loan for the Moreton Bay based Campus of the University Of The Sunshine Coast at Petrie.
Regional Queensland will benefit from grants of up to $10 million over four years under a new $272 million Regional Growth Fund.
The cash will be made available to "major transformational projects" that support long-term economic growth and create jobs in cities battling through difficult times.
As for Queensland the Cross River Rail Project won't see a cent of Commonwealth money towards it until at least 2019.
For residents and tax payers your medicare levy will go up from 2.0 % to 2.5 % which will help fund medicare and the NDIS leading in to the 2020's when costs are expected to escalate as as the need increases with increasing demand
With the economy expected to improve gradually and higher then expected ATO revenue may be a saving grace for the Federal Government achieving a budget surplus
The "Bank Levy"  is the second biggest revenue generator for the Federal Government.
Key announcements about education, housing and welfare was clearly mentioned.
There is good debt and bad debt and this will be a centre piece of this years budget in analysis
Related Stories :  Federal Treasurer Scott Morrison reveals tax hike, welfare drug tests and hit to banks 
 & Budget Speech 2017-18, Parliament House By the Hon. Scott Morrison Treasurer - Transcript 
A quick summary includes:
Negative gearing won't be abolished, but we can expect to see other measures to tackle home affordability, like cheap loans for community housing and higher taxes on foreign buyers
Billions will be committed to big projects like regional and suburban rail, and Sydney's second airport
Schools will get an extra $18 billion over 10 years and there'll be another Gonski funding review
University students will face higher fees and have to repay them earlier
The freeze on Medicare rebates to doctors is expected to be eased
There's more money for police, war veterans, and a fund to help the manufacturing sector
Summary of the speech as it happened  :
This budget projected to return to surplus by 2021 as the "budget will making the right choices to secure the better days ahead" ,to "reset the budget by reversing these measures at $13.5 billion" & to expect real growth to rebound to 3% over the next two years.
Western Sydney Airport will be delivered in 2026 creating 20, 00 new jobs & further developments to the Snowy Hydro with Snowy 2.0 remaining in public also promises to deliver $75 billion in infrastructure funding and financing over the next 10 years with a big ticket item with the Government to establish a $10 billion national rail program and $8.4 billion in equity to be provided to the Australian Rail Track..
Big investments in infrastructure and programs this Budget 2017 with focus on regional communities
New annual foreign worker levy announced with promises of over $1.2 billion to be raised.
New promises to hospital funding with $2.8 billion increase and Medicare levy will receive a 0.5% increase in 2 years as well as Chronic disease prevention research receives significant funding boost.
.
Cautious welcome to housing affordability super measures.
$18.6 billion in extra funding to educate primary education.
There will be new restrictions and misconduct rules for Australian Banks with Australian Financial Complaints Commission established and accountability on that new bank deposits tax rules will not effect pensioners, ordinary deposit accounts or home loans.
Kick starting new homes for young Australians Increase capital gains tax discount to 60% for affordable housing with the Government planning to replace the National Affordable Housing Agreement.
Homelessness funding will receive and additional $375m, plus Salary sacrificing towards first home and first home super taxed at 15% plus Foreign Investors to receive a new levy of $5,000.
Support young parents to get a job with new programs being introduced while new introduction of Drug testing trial of 5000 on dole with referrals towards drug treatment and crackdowns on centerlink and welfare payments. Focus on immigrant pensioners.
ATO expects to raise more than $4b this financial year.
The Quotes of the Budget:
'Fairness, opportunity and security'
"This budget is about making the right choices to secure the better days that are ahead. Our choices are based on the principles of fairness, security, and opportunity."
Mr Morrison said the budget was projected to return to balance in 2021 and remain in surplus over the medium-term.
He said the underlying cash balance would improve from a forecast deficit of $29.4 billion in 2017-18 to a projected surplus of $7.4 billion in 2021. 
Infrastructure spending
Mr Morrison details spending on infrastructure - including building Sydney's second airport, upgrades to highways in Queensland and WA, and regional rail in Victoria.
He also confirms the Government will fund the Melbourne to Brisbane inland rail project.
"We choose to invest in building Australia, rail by rail, runway by runway, and road by road."
Investing over $300 million to the Australian Federal Police.
$2.2 billion to be reinvested back into Australians' healthcare.
Legislate to guarantee Medicare and the PBS.
Mental health receives increase in funds of $115 million dollars.
Medicare levy will be increased
The Medicare rebate freeze that was unpopular with consumer and medical groups will be lifted, although the Medicare Levy will increase by 0.5 per cent from 2019.
"Tonight, we put to rest any doubts about Medicare and the Pharmaceutical Benefits Scheme. We are lifting the freeze progressively on the indexation of the Medicare Benefits Schedule.

"I also announce we will legislate to guarantee Medicare and the PBS with a Medicare guarantee bill. This new law will set up a Medicare guarantee fund to pay for all expenses of the Medicare Benefits Schedule and the Pharmaceutical Benefits Scheme."
Banks to pay
Australia's five largest banks to pay $6.2 billion in fees over four years.
"I also announce a new six-basis-point levy on the big banks' liabilities, starting on July 1. This represents an additional and fair contribution from our major banks, is similar to measures imposed in other advanced countries, and will even up the playing field for smaller banks."
Housing measures
Prospective first-home buyers will be allowed to salary sacrifice up to $30,000 — or a maximum of $15,000 a year — into their superannuation accounts, which the Treasurer says will allow them to save for a deposit quicker.
"In Melbourne, land for a new suburb that can cater for 6,000 new homes will be unlocked just 10km from the CBD by releasing surplus Defence land at Maribyrnong.

"The Turnbull Government will also help deliver tens of thousands of new homes needed in western Sydney as part of our Western Sydney City Deal. A new national housing finance and investment corporation will be established by July 1 next year to provide long-term, low-cost finance to support more affordable rental housing."
Toughening multinational anti-avoidance laws
The Treasurer has vowed to continue the crackdown on multinationals that don't pay their fair share of tax.
"The ATO has already, Mr Speaker, raised $2.9 billion in tax liabilities this year, against a group of just seven large multinational companies, and expects to raise more than $4 billion in total this financial year from large companies and multinationals. 

"We are toughening the multinational anti-avoidance laws of this Government to extend the rules to structures involving foreign partnerships or trusts, and clamping down on aggressive structuring using hybrids."
The Treasurer ends by laying out the Government's budget plan
"This is a budget that makes the right choices for Australians who are working hard to secure their better days ahead for themselves and their families.

"This is a plan that can be trusted and supported. To be clear, our plan is to grow our economy to create more and better-paid jobs, to guarantee the essentials that Australians rely on.

"To reduce cost of living pressures and to ensure, as always, that the Government - this Government - will always live within its means."
The surplus question
The budget says a surplus will be achieved in 2020-21. But that relies on the forecast that wages growth, at a historic low of 1.9 per cent, will soar to 3.75 per cent as we reach the next decade.
Asked if that's a bit of a stretch, Scott Morrison says the Government's plans to help small businesses will help fuel wages growth.
 Housing: Summary
A new survey by CoreLogic, a property data firm, found that 87 per cent of non-home owners are concerned about affordability; 30 per cent are looking to inheritance or parents to help them buy; and 62 per cent living with parents say they can't afford to move out. It surveyed 2010 people aged 18 to 64.
By CoreLogic's estimate, houses cost 7.2 times the yearly income of an Australian household, up from 4.2 times income 15 years ago. And a 20 per cent deposit costs 1.5 years of household income, up from 0.8 years.
First-home buyers will benefit from a new type of savings account that allows them to salary-sacrifice contributions towards a deposit from their pre-tax pay. They won't be able to dip into superannuation, as was suggested earlier this year.
Retired couples who downsize by selling their homes will be offered exemptions from new superannuation caps of $100,000 in after-tax contributions and $1.6 million in retirement accounts.
A "ghost house tax" will be imposed on foreign investors who leave their properties vacant, a practice known as "land banking".
A "bond aggregator model" will enable loans to community housing associations at lower long-term rates to encourage investment.
The Government has ruled out doing much to reduce demand, including changes to negative gearing or capital gains tax concessions.
Health:
The four-year freeze on Medicare rebates will lift this July for some GP visits, extending to specialists and medical procedures over the next three years. A standard GP consultation, which has remained at $37.05 since 2013 when Labor brought in the freeze, will rise to $40. It could cost taxpayers up to $400 million a year.
It is part of a multibillion-dollar 10-year "national health plan" hoped to counteract Labor's "Mediscare" campaign.
It will include extra support for hospitals including $730 million for Tasmania's Mersey Hospital, $6 million for prostate cancer nurses and medical research and preventative healthcare with an emphasis on mental health.
Doctors will be encouraged to prescribe more generic brand medicine in an effort to save up to $1.8 billion over five years.
Education:
A School Funding Estimator has been launched by the Federal Government which will guide parents just how much their school(s) will receive in Federal, state and other funding.
An extra $19 billion will be injected into school funding over the next decade under David Gonski's needs-based model, originally championed by Labor.
Funding will increase from $17.5 billion this year to $22.1 billion by 2021 and $30.6 billion by 2027.
The model will not discriminate between public, private and Catholic schools, so 24 of the nation's wealthiest schools will experience "negative growth" in their funding and 350 "slower growth" - but more than 9400 will benefit.
The package is still $22 billion less than Labor has promised to spend on schools over the decade to 2027.
It will be paid for by last week's announcement to cut university funding by $2.8 billion over four years.
University students will face a 7.5 per cent tuition fee hike, phased in over four years starting in 2018. The maximum increase for a four-year, government-subsidised degree will be $3600, with a maximum total cost of $50,000. A subsidised six-year medical degree will cost a maximum of $75,000.
Graduates will start repaying tuition fee loans at a lower income threshold of $42,000 instead of $51,957, high income earners (over $119,882) will pay 10 per cent of their income instead of eight per cent.
Income thresholds for repayment will be indexed to the consumer price index instead of the faster rising average weekly wages, which means higher repayments to the government over the longer term.
Universities will have to meet a 2.5 per cent efficiency dividend, and funding will depend on performance.
Welfare:
Dole Bludgers will face a driver style demerit system in the Federal Budget which will cut off their payments for up to a month when they lose all seven points.
Welfare recipients who take taxpayers for a ride by failing to turn up to job interviews or work-for-the-dole appointments will start losing payments when they reach four points — and when they hit seven demerit points, they will have their payment cut-off, effective immediately for four weeks.
There will be new measures to ensure benefits recipients "fulfil their obligations", by meeting with employment groups, for example, or taking part in "work for the dole" schemes.
Centrelink recipients could be restricted from buying alcohol, gambling or withdrawing cash.
Up to $13 billion of 2014 "zombie cuts" to welfare and education will be dumped but replaced with the above $2.8 billion cuts to high education and $2.4 billion alternative cuts to welfare, passed by the Senate in March.
These include abolishing end of year supplements for Family Tax Benefit Benefits, making the unemployed wait four weeks before receiving the dole and stripping carbon tax compensation from new welfare recipients.
Up to 3.5 million people on the age and disability support pensions and parenting payment will receive one-off cash payments to help them cover their energy bills by June 30 - $75 for singles and $125 for couples.
A $5.5 million awareness campaign will target anti-vaxxers, and from July, Family Tax Benefit A payments will be reduced by $726 a year for each child who hasn't been immunised.
Another zombie cut of $55 million over three years from community legal centres has already been restored.
Infrastructure:
The Government will bring forward most of its $50 billion infrastructure program from last year to "fast-track" projects it sees as "good debt" rather than "bad debt".
Sydney's $6 billion second airport at Badgerys Creek will be bankrolled by the Coalition after Sydney Airport declined the project.
Multi billion dollars funding for Suburban Rail Package part of Budget 2017
At least $1 billion will be put towards the inland rail connecting Brisbane with Melbourne, Adelaide and Perth, which will be built in partnership with a private company for an estimated $10 billion.
Expect the further roll-out of the Government's City Deals between all levels of government and the private sector to develop urban areas, starting with $100 million for Townsville.
Business and Media:
The first tranche of the 10-year plan was passed in April giving businesses with a turnover of up to $50 million a tax cut. The Coalition wants to extend this to all businesses.
Oil and gas companies could lose some tax deductions.
Gambling advertising will be banned before 8.30pm during live sporting events, and for five minutes before and after the start of play.
The $130 million annual licence fee for broadcasters will be scrapped in favour of a $40 million spectrum fee.
New measures to claw back up to $15 billion from the black economy.
National Security:
Defence spending is expected to rise from $32.4 billion in 2016-17 to $58.7 billion in 2025-26.
The Australian Federal Police will receive an extra $321.4 million to fund an expansion of the force with up to 300 personnel expected to be hired, including negotiators, tactical response officers, bomb squad technicians and forensic specialists.
Around $350 million will go to preventing suicide among war veterans.
Banks:
Australia's big four banks in line for a massive hit to their balance sheets thanks to a new levy to be unveiled in The Federal budget.
Treasury Secretary John Fraser contacted banking chiefs at 6.30pm, before Treasurer Scott Morrison was due to deliver his budget speech.
The tax will reportedly raise around $6 billion over four years among the Big 4 Banks with a question mark now over will they past this cost on consumers so as to not cut in to the banks profit margin.
Tax
Petroleum Resource Rent Tax: Oil and gas companies could lose some of their generous tax deductions following a review of the tax.
Company tax: The first tranche of the 10-year plan was passed in April giving businesses with a turnover of up to $50 million a tax cut.
The Coalition wants to extend this to all businesses.
Multinational tax: We're likely to see the figures on the so-called "Google tax", which was passed in April and could recoup $2 billion in revenue.
What's out?
University deregulation: The Government has dropped plans to cut funding to the sector by 20 per cent while allowing universities to dramatically increase course fees.
Superannuation for property: Accessing retirement savings for a deposit was floated earlier this year.
The Treasurer was in favour of the idea but it was shot down by the Prime Minister and senior colleagues.
Negative gearing: Labor wants the tax concession abolished for new properties but the Coalition is determined to leave it unchanged.
These lines of opposition are entrenched so don't expect change in a hurry.
GST reform: The political fight over this has proved too dangerous in recent years with states calling for increases to funding and an overhaul of tax distribution.
Sources: ABC News and MediaNet AP