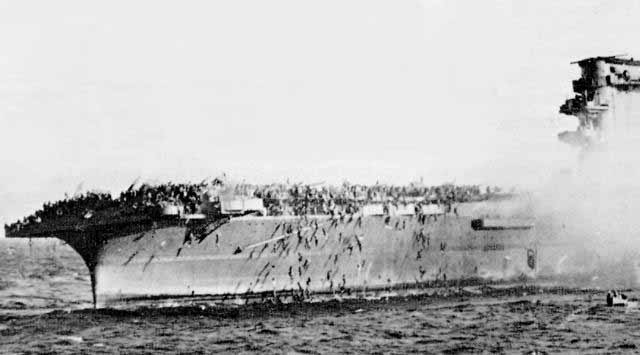 75th Anniversary of the Battle of the Coral Sea
Minister for Veterans' Affairs Dan Tehan said Australians would remember the service and sacrifice of all those who fought in the Battle of the Coral Sea on its 75th anniversary today.
 
Mr Tehan said the Battle of the Coral Sea had been one of the defining naval battles of the Second World War in the Pacific.
 
"The Battle of the Coral Sea was fought in the waters southwest of the Solomon Islands and east of New Guinea between 4 and 8 May 1942," Mr Tehan said.
 
"It was the first naval battle in history where the ships of the opposing sides never fired at, or sighted, the other.
"The Battle of the Coral Sea checked Japanese expansion in the Pacific. If the Japanese had been successful they could have landed a force in Port Moresby, cutting Australia-US communications and threatening Australia with invasion. The American commander, General Douglas MacArthur, said the battle 'undoubtedly saved Australia from a definite and immediate threat'.
 
"To the men and women of Australia and the United States who saved us from that threat, I offer the thanks of the grateful generations which came after you. On this important anniversary we remember those who fought in that battle. Their efforts in the Battle of the Coral Sea will not be forgotten."
 
"Prime Minister will be in the United States to attend the 75th Battle of the Coral Sea commemorations in New York, hosted by the America-Australia Association (AAA)."
 
The Australian Government has approved a grant of $25,000 to the AAA to commemorate the 75th anniversary of the Battle of the Coral Sea at a dinner being held on board USS Intrepid on 4 May 2017. Money raised from the dinner will be used to create an American-Australian Veterans' Scholarship Fund for disabled veterans to pursue undergraduate or postgraduate study and to support directional scholarship grants between our two nations.