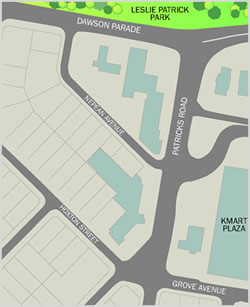 $1.6 million upgrade for Patricks Road & Dawson Parade Arana Hills
Moreton Bay Regional Council has awarded a $1.6 million tender for the Patricks Road and Dawson Parade intersection upgrade at Arana Hills following extensive community consultation and feedback.
Division 10 Councillor Matt Constance said following an 18 month community consultation period with local residents, motorists and business owners, council had finalised designs on the upgrade and would now construct two new right turn lanes into Patricks Road from Dawson Parade, relocate the existing Arana Hills Plaza bus stop and create a new right turn and u-turn lane at the Patricks Road and Bringelly Street intersection.
"The Patricks Road and Dawson Parade intersection project is a major upgrade for our community that will deliver improved traffic flow for the local area and for motorists, pedestrians and cyclists who access Arana Hills Plaza and other local businesses day in, day out," Cr Constance said.
"Since initial public information sessions in November and December 2015, this project has continued to be refined and developed.
"Much of the community's feedback has been incorporated as part of this upgrade, and I'm pleased to announce that there will be no change to the existing right turn and left turn lanes from Patricks Road into Dawson Parade. I can also advise that the two through lanes heading south along Dawson Parade will also be retained.
"The existing Arana Hills Plaza bus stop will be relocated further west of the shop's Patricks Road entrance, to avoid any traffic backing onto motorists while buses stop to pick up passengers.
"In addition to improved traffic flow, this is a project that will increase safety for road users including cyclists, and that's why as part of the project, new cyclist bays will also be installed at all legs of both the Dawson Parade and Bringelly Street intersections.
Works are expected to commence in coming weeks and be completed by October, weather permitting.
Cr Constance said to minimise disruptions, contractors would implement a traffic management plan throughout the duration of works, and where possible, works would be carried out at night.
"As construction progresses and changes to traffic are made, local businesses will be notified and variable message signs installed at all approaches advising motorists of any changes.
"We've listened to what our community wants and needs as part of this project, from the upgrade itself to the management of construction works, and I want to thank the community their input and for their patience as works are underway to deliver this vital upgrade."
Final plans are available on councils website: https://www.moretonbay.qld.gov.au/subsite.aspx?id=147069