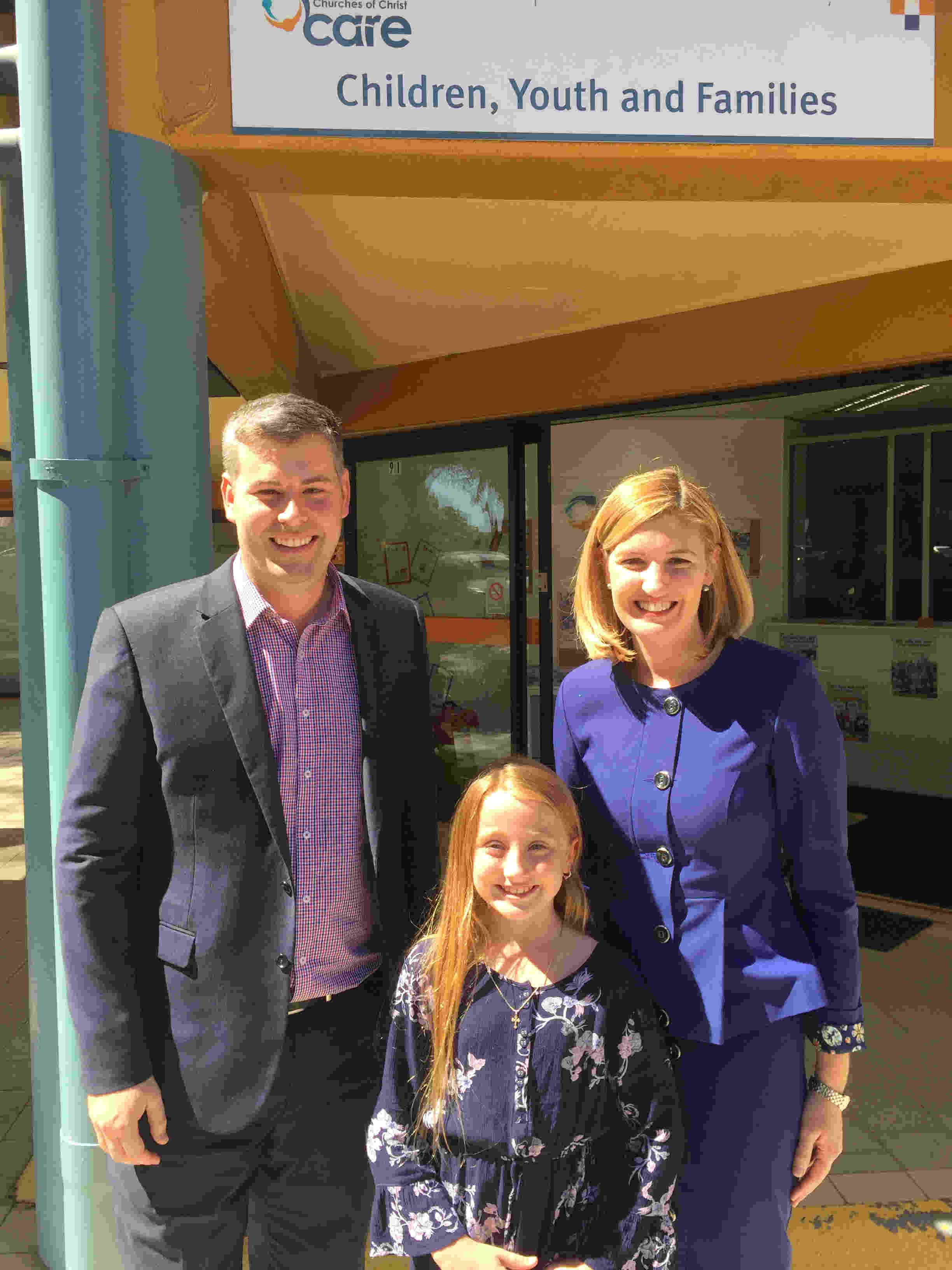 Grass-roots support for 172 families in Moreton Bay
More Caboolture families are receiving the help they need to keep their children safe at home, with the Palaszczuk Government investing more than $14.6 million over four years in intensive family support services in Moreton Bay, including an additional $4.2 million announced today.
Visiting the Moreton Bay Intensive Family Support service in Caboolture today, Child Safety Minister Shannon Fentiman  said families' needs were increasingly complex, requiring stepped-up services to keep them safe and together.
"These hands-on family support services are designed to reduce the number of children and young people going into care," she said.
"They work with families to help them adequately nurture, protect and keep their children safe.
"I am delighted there are two such services in Moreton Bay – this one in Caboolture run by Churches of Christ and one run by Mission Australia in Deception Bay.
"The Caboolture service started in July 2015 and was one of the first in the state.
"It has already helped more than 172 families and receives funding of more than $1.26 million per year.
"This dynamic service also has established an Elders group and a specialist service for children with special needs that includes a disability services worker as part of the team."
Today's announcement includes an additional $1.9m over four years to fund a Young Parents Program targeting mums with kids aged 0 to four in the Caboolture Hospital catchment and $2.3m for additional support services.
Morayfield MP Mark Ryan said he will continue to fight for more resources for the frontline family services in his local community.
"The Caboolture Region is a great community but we also have many challenges that need to be overcome," Mr Ryan said.
"None is more important than the protection of our young people and the elimination of family and domestic violence.
"The additional resources from the State Government for our community means more families and more kids get more support - and that's got to be a good thing.  But I know more must be done and I'll continue to fight for our community."
Pumicestone MP Rick Williams said Mission Australia runs the Intensive Family Support Service that helps families in the Deception Bay, Redcliffe, Caboolture and surrounding areas and receives more than $1.4 million a year.
"It's great to see significant investment in early intervention help for families in the Moreton Bay region and it's even better to know that help is never far away for local families who need assistance," he said.
Churches of Christ Care acting CEO David Swain said the organisation is committed to the local community and helping vulnerable families, particularly those with complex support needs through their service, Moreton Bay Families Together.
"Through providing practical assistance, we give families the help they need to become stronger, more capable and resilient," Mr Swain said.
"We want to help families before they reach crises point and need to enter the child protection system."
The two services are among 22 Intensive Family Support services up and running across Queensland.
Ms Fentiman said their work will be bolstered by the announcement yesterday that 20 drug and alcohol and maternal health nurses will be embedded within child and family support services to provide tailored help to families.
She said the scheme was set to be boosted with a further $65 million over five years for new and expanded family support services.
"These services continue to do a great job helping Queensland families, and with this extra funding they will be able to expand their services to even more families and help address any service delivery gaps," she said.
"It's about keeping families together safely at home whenever we can by providing targeted support to help families overcome issues such as domestic and family violence, drug and alcohol misuse to mental illness and parental history of childhood trauma."
Grass-roots support services provide transport to medical appointments, help with establishing daily routines like cooking or getting to school, parenting courses, budgeting advice, counselling, family mediation, anger management and domestic violence intervention programs.
Families can also be referred to other supports including access to housing, child care, emergency relief payments and rental assistance.
Referrals can be made by Family and Child Connect, via mandatory reporters such as health workers, school principals and guidance officers and Child Safety staff, or by other government and non-government agencies, and even by families themselves.
For more information on IFS services go to www.communities.qld.gov.au/gateway/reform-renewal/child-family