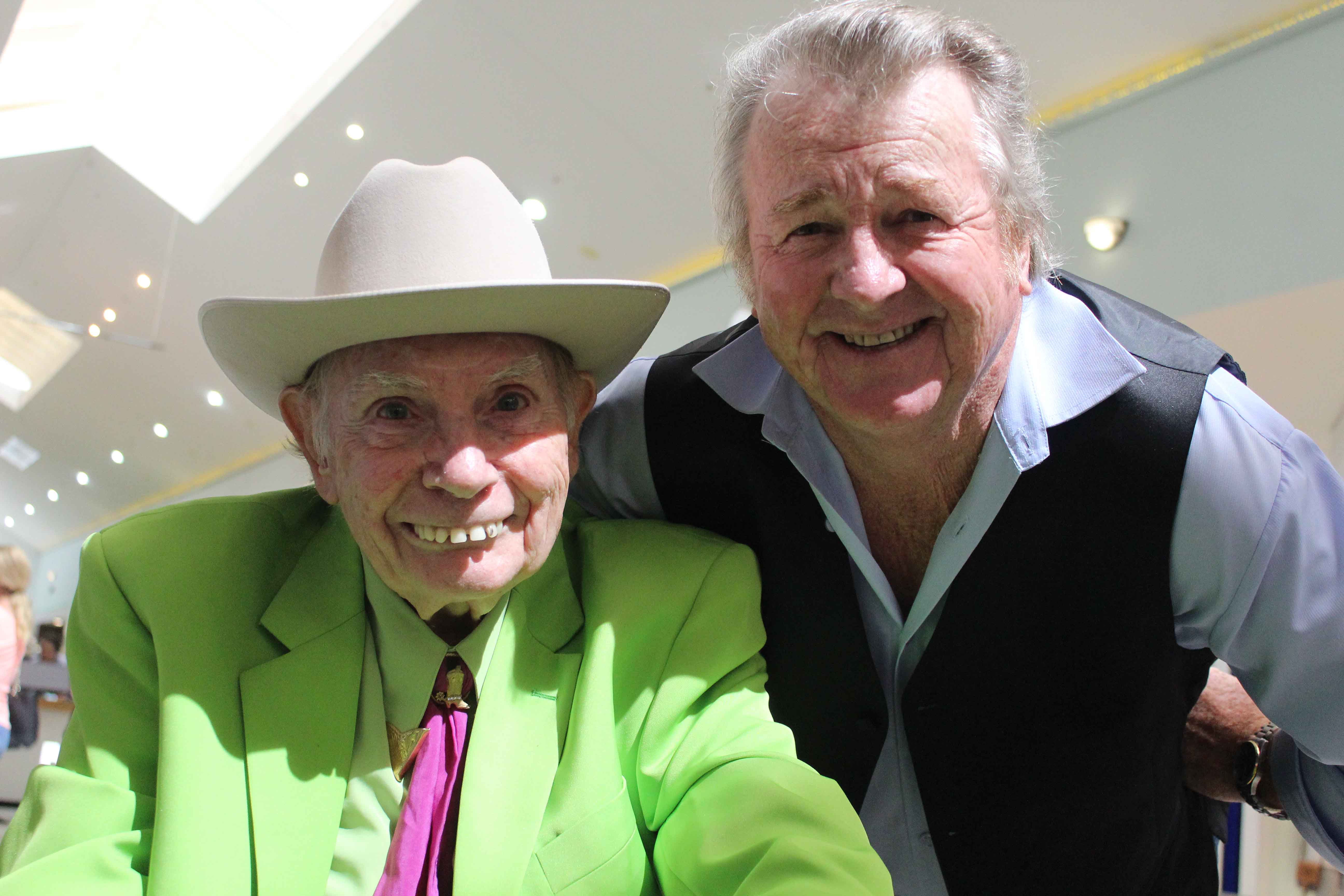 Chad Morgan still charming audiences young and old alike
What we do know Chad Morgan OAM (born 11 February 1933)  is an iconic, legendary Australian country music singer and guitarist known for his vaudeville style of comic country and western songs, his prominent teeth and goofy stage persona.
In reference to his first recording, he is known as "The Sheik of Scrubby Creek".
Audiences were enchanted with the sight of Chad Morgan at the Morayfield Shopping Centre, unannounced it was not long before people gathered around for a chance too see, and chat with this living legend.
Chadwick William "Chad" Morgan was born in Wondai, Queensland in 1933 and raised by his grandparents. He was discovered through Australia's Amateur Hour radio program and started recording with Regal Zonophone ( a subsidiary of EMI ). Chad, known fondly as "The Sheik of Scrubby Creek",
released his first album in 1952 and is renowned for his vaudeville style of comic country and western songs, and goofy stage persona. Chad is the ultimate comic of Australian country music. He is instantly recognizable with his unique trademark – Those Teeth!!
Tex Morton once described Chad as the only original country music artist in Australia. When Gordon Parsons came up with the pub with no beer, Chad's the bloke who wrote the words down and even one verse of his own. Chad has toured extensively, including the Slim Dusty Show, the All Star Western Show, Normie Rowe, Mental As Anything and his own Chad Morgan Show. Chad has been prolific in his recorded output and live performances.
While touring Australia Chad made sure he had fun. If he wasn't racing cars off the highway, he was playing a modern game of William Tell with a .303. Chad explains "Trevor Day & myself were travelling outback Queensland, we stopped beside a billabong for lunch. Well I had me .303, doing some roo shooting as we went. Trevor yells out "Hey Morgan, you reckon you're so good, see if you can take this can off me head at 50 yards." I said "No, better not." Trevor said "You haven't got the guts, huh?" "Well, it was 50 yards off the shoulder, but I shot that bloody can off his head."
He was dubbed the clown prince of comedy by Slim Dusty. Chad has platinum and gold album sales, and is one of Australia's most popular and loved country music artists. He has played all over Australia in all of manner of places, from tents to trucks to clubs and pubs, festivals, the Sydney Opera House – even a touring circus!! He has recorded a duet with John Williamson, "A Country Balladeer". Chad portrays Aussie culture WARTS AND ALL – and we love him for it. The dry humour that he uses to send up our beloved institutions and customs have thousands of people laughing at themselves every time they hear him sing.
Chad still has an enormous and devoted following and is constantly touring the country, he still eagerly awaits his performances at the Annual Tamworth Festival. Since 1952 Chad's been performing a unique array of comic country
and western songs such as The Sheik Of Scrubby Creek, I'm My Own Grandpa, The Shotgun Wedding, Double Decker Blowflies, There's Life In The Old Dog Yet, and many more.
Chad was inducted into the Tamworth Hands Of Fame in 1979. The Roll of Renown in 1987, the Kempsey Living Legend Award in 2002 and the Order Of Australia Medal (OAM) in 2004. Chad was the first person to be honoured with the Lifetime Achievement Award at the 2010 CMAA Awards.
Chad Morgan is one of the last pioneers of Australian Country Music, and is still very active, touring Australia bringing his comical songs to fans of three-generations. The man who has been making people laugh for more than five decades should be crowned King of Australian Country Music Comedy. He is a master of audience control and remains one of the biggest draw cards in the history of Australian Country Music.
During our chat it was revealed it was almost accidental that he went on to be the legend he is, and never thought in his early early years he would still be performing, yet this is precisely what he continues to do and releasing his most recent album "Family & Friends" , so his desire to entertain will continue "when they stop coming to shows or he drops dead performing" in either case its not likely either will happen any time soon.  Chad will be performing at the Caboolture Country Music Jambouree & Talent Quest 29 April