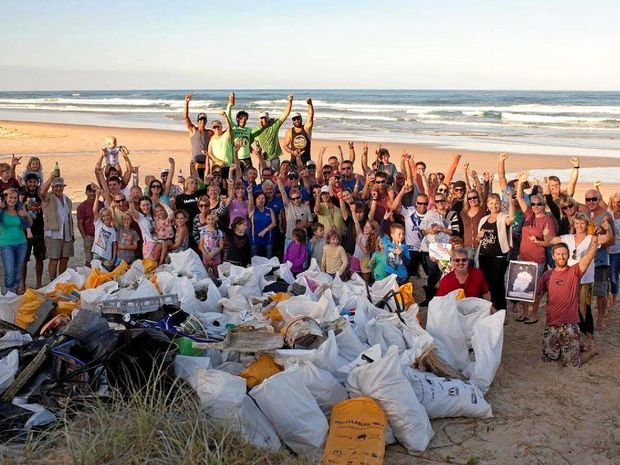 Unitywater sponsors beach clean-up ahead of Noosa Festival of Surfing
Unitywater is supporting a beach clean-up event to keep Noosa Main Beach free from plastic waste ahead of the Noosa Festival of Surfing this week.
The clean-up, hosted by the Noosa Community Biosphere Association (NCBA) will be held on Friday 3 March from 4pm – 5.30pm.
It will be the first in a series of monthly Noosa Beach clean ups that will report data to the Australian Marine Debris Initiative (AMDI) to create Source Reduction Plans to address the major causes of Noosa beach pollution.
The clean-up also marks the beginning of Unitywater's Back to Tap initiative at the Noosa Festival of Surfing, which aims to reduce the number of single-use plastics at the event. Through the initiative refillable stainless steel bottles will be for sale at the not-for-profit price of just $3, with all proceeds supporting NCBA.
NCBA Vice President Annie Guthrie said everyone was welcome to be involved in the clean-up.
"I'm excited to begin the clean-ups and we invite the whole community to participate," she said.
"These events promote biodiversity, citizen science and environmental action-taking in Noosa Biosphere Reserve, which extends 2km in the ocean around the National Park.
"We are thrilled to partner with local community groups and work together towards a sustainable future in Noosa."
Unitywater Community Relations Specialist Kate Cash said it was a no-brainer to sponsor the event.
"We promote tap water as a cheap and environmentally-friendly alternative to plastic-bottled water and it is exciting to see so many community groups taking a stand against single-use plastic while Noosa is on the world stage," she said.
"Thousands of people will descend on Noosa Main Beach from this weekend and this initiative will help to significantly reduce plastic waste."
The clean-up supports this year's festival, which is aiming to be as sustainable as possible by providing plastic-free alternatives.
The Surfrider Foundation Sunshine Coast will also be unveiling a public bench seat made entirely from recycled contaminated plastics collected from the beaches of Noosa North Shore to Double Island Point.
Other community partners supporting the beach clean-up event include Boomerang Bags Noosa, Clean Up Australia, Coolum & District CoastCare, Noosa Integrated Catchment Association, Noosa Surf Life Saving Club, Surfrider Foundation Sunshine Coast and Tangaroa Blue Foundation.
-UnityWater