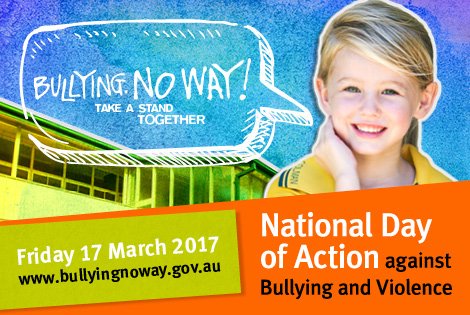 Stephen Auer Principal Hercules Road State School on National Day of Action Against Bullying on 101.5 2017-03-15
Stephen Auer Principal of Hercules Road State School says the whole school says no to bullying and violence and encourages other schools to take part in showing all schools feel the same way.
Children should feel safe in schools and in public and one way of achieving this is awareness which is what the national day of action is all about
Part of a federal government initiative :
The seventh National Day of Action against Bullying and Violence is on Friday 17 March, 2017! What is your school doing?
It's not too late to get involved.  All Australian schools are invited to register and join the nationwide movement to say 'Bullying. No Way!'
Make sure your school has officially registered. Check the Participating schools list or register now.
Schools who register as 'National Day of Action schools' have access to a range of materials to help make the day a great success.
The National Day of Action is a great opportunity to share your school's anti-bullying policies, strategies and programs with your school community.
Help deliver a powerful message that bullying and violence is never okay.
Register for Friday 17 March 2017 and let's Take a Stand Together.
Check out the NDA schools section for ideas for school events, class activities, lesson plans, materials and other school resources.
To see what schools have done for the National Day of Action in the past, visit the Photo gallery and see Previous years.