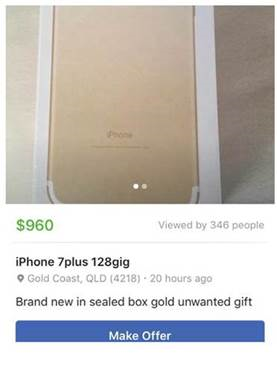 Queensland Police : Counterfeit phones, South East Queensland
The Police Minister the Hon. Mark Ryan MP says always be on the look out on the social media and websites selling stuff, if its too good to be true it probably is.
Police are urging the public to exercise caution when purchasing items on-line,following a string of complaints relating to fake mobile phones being purchased.
Between December 3 and January 13, a number of people have answered adverts placed on Facebook Market Place and Gumtree selling iPhone 7 plus phones which were discovered to be fake following the transaction.
Initial inquiries indicate the phones were contained in sealed boxes and from the outside appeared legitimate.  The software on the phones was discovered to be Android instead of Apple.
Investigators are making inquiries into similar offences in the area and are appealing for anyone with information regarding these offences to contact police.
CrimeStoppers 1800 333 000
Queensland Police service