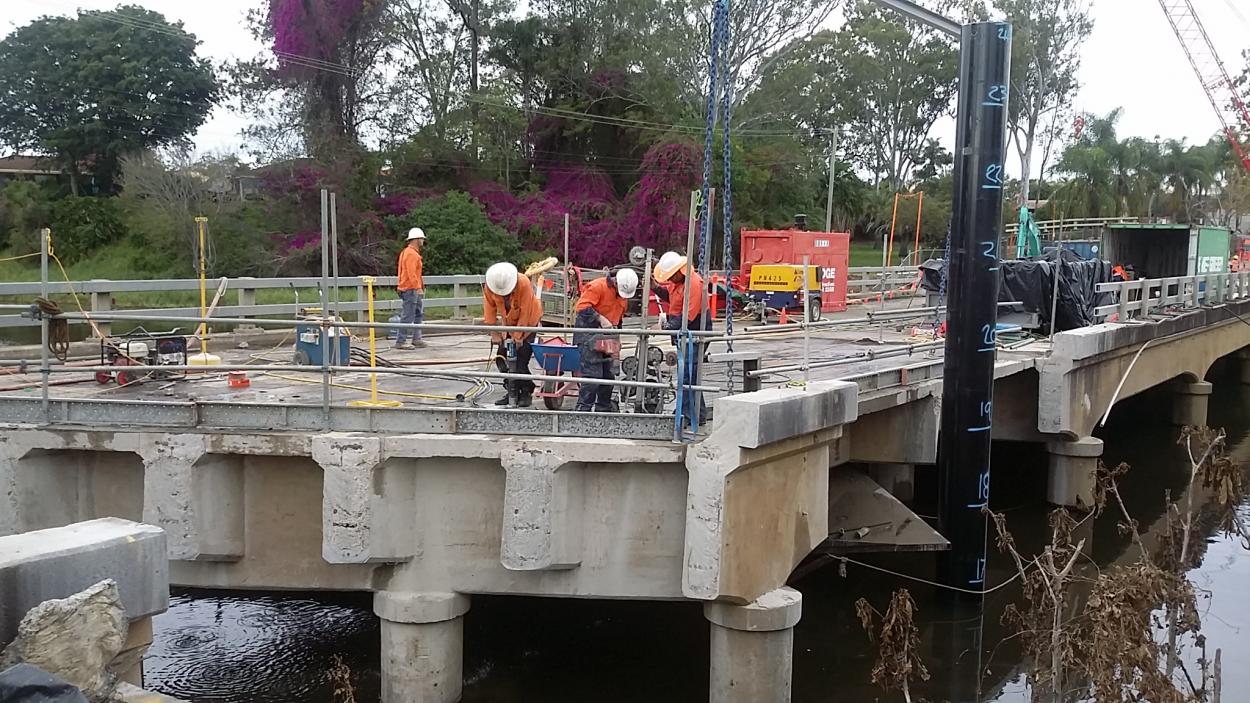 New Caboolture River bridge now in final moments before completion
State Member for Morayfield The Hon. Mark Ryan updates us on the progress of the Morayfield Road Caboolture River Bridge and it looks to be completed on time or earlier, with works in progress working on the final stages of its re construction.
Work on the 90 year plus bridge has taken it from tender, demolition and building it to 21st century guidelines along the way some history has been preserved at the Caboolture Historical Village for posterity.
Mark Ryan says he is hopeful that not only will traffic flows get back to normal but that a re dedication and re opening of the bridge ceremony can also take place at the appropriate time.
"For each bridge span there will be 20 support beams to support the concrete deck motorists will travel on, and the large cranes installing the structures will be on-site over the coming months while the operation is underway," Mr Chester said.
Queensland Minister for Main Roads and Road Safety Mark Bailey said the Department of Transport and Main Roads had taken extra efforts to preserve the history of the recently demolished old bridge.
"From the start, the project team engaged with the Caboolture Historical Association about what parts of the original southbound bridge might be suitable for their Historical Village," Mr Bailey said.
"We have been delighted to be able to provide sections of the piles from the 1919 bridge and its 1987 widening, as well as two timber pieces believed to be from the wooden structure that crossed the river before 1919.
"The project team delivered the items to the Historical Village, where they will be displayed and some of the wood used by the Caboolture & District Woodcrafters Club, which operates in the village."
Assistant Minister to the Prime Minister and Senator for Queensland James McGrath said the historical original bridge, almost a century old, had reached the end of its useful life.
"This project will deliver a safer bridge for motorists, with improved access for pedestrians and cyclists. The new bridge will also help local freight businesses operate more efficiently by removing the load limits that applied to the old bridge," Senator McGrath said.
Member for Morayfield Mark Ryan said it was a great outcome for the community that pieces from the original bridge would be preserved in the local area.
"We were aware of the importance the original 1919 bridge played in connecting the communities north and south of the river. We wanted to ensure any pieces of interest were offered to the historical association, which has been preserving local heritage for almost 60 years," Mr Ryan said.
The $17.1 million Caboolture River Bridge Replacement Project is jointly funded by the Australian Government and Queensland Government under the Bridges Renewal Programme.