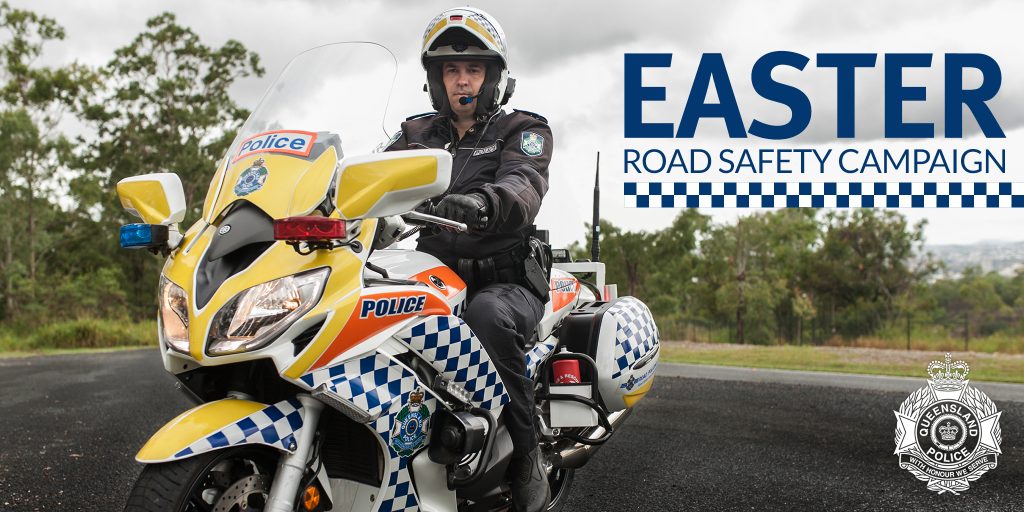 Easter road safety campaign launches as school holidays kick off
Wet conditions will be the biggest threat on Queensland roads as we launch our new road safety campaign to coincide with Easter school holidays.
The campaign, launched earlier today, is urging motorists to drive to conditions and check for road closures before leaving home.
Road Policing Command Assistant Commissioner Mike Keating said extra officers would target the Fatal Five over the school holiday period with a high visibility presence on the roads.
"There will be an increased police presence on the State's major road networks over the next three weeks, with officers maintaining high visibility in order to discourage the contributing factors of road trauma," Assistant Commissioner Keating said.
"The 2015 Easter holiday period was the worst year on record for fatalities on our roads. Then 2016 was the best year yet. We're hoping to replicate the positive result this Easter and would encourage everyone to remain vigilant and make wise decisions on our roads."
The current road toll for 2017 stands at 54 compared to 55 last year.
The QPS traffic operation will be conducted from Friday March 31 until Friday April 21 and incorporate the Easter long weekend, with school resuming on Tuesday, April 18.
Police Minister Mark Ryan said dangerous road conditions had been created from a week of severe weather across the state.
"A large proportion of Queensland's road network remains affected by the impact of Ex-Tropical Cyclone Debbie and I would urge all motorists to drive to conditions and take extra care," Minister Ryan said.
"Our clear message is always – if it is flooded, forget it! If you do have to travel, always have a 'Plan B' of alternative routes to take in case roads are flooded or closed."
Main Roads and Road Safety Minister Mark Bailey said while flooding and damaged roads were hampering cyclone recovery efforts in North Queensland and the South East was experiencing wide spread flooding, motorists should carefully review their travel plans.
"There are roads closed across Queensland as the result of cyclone damage, floods and landslips and while some of these will reopen within days, other roads might take longer to reopen," Mr Bailey said.
"I urge all motorists to check traffic and travel information via QLDTraffic* before getting in the car to make sure they can get to their destination safety.
*Queenslanders can pre-plan their trips by visiting www.qldtraffic.qld.gov.au, downloading the QLDTraffic app or calling 13 19 40.
QPS