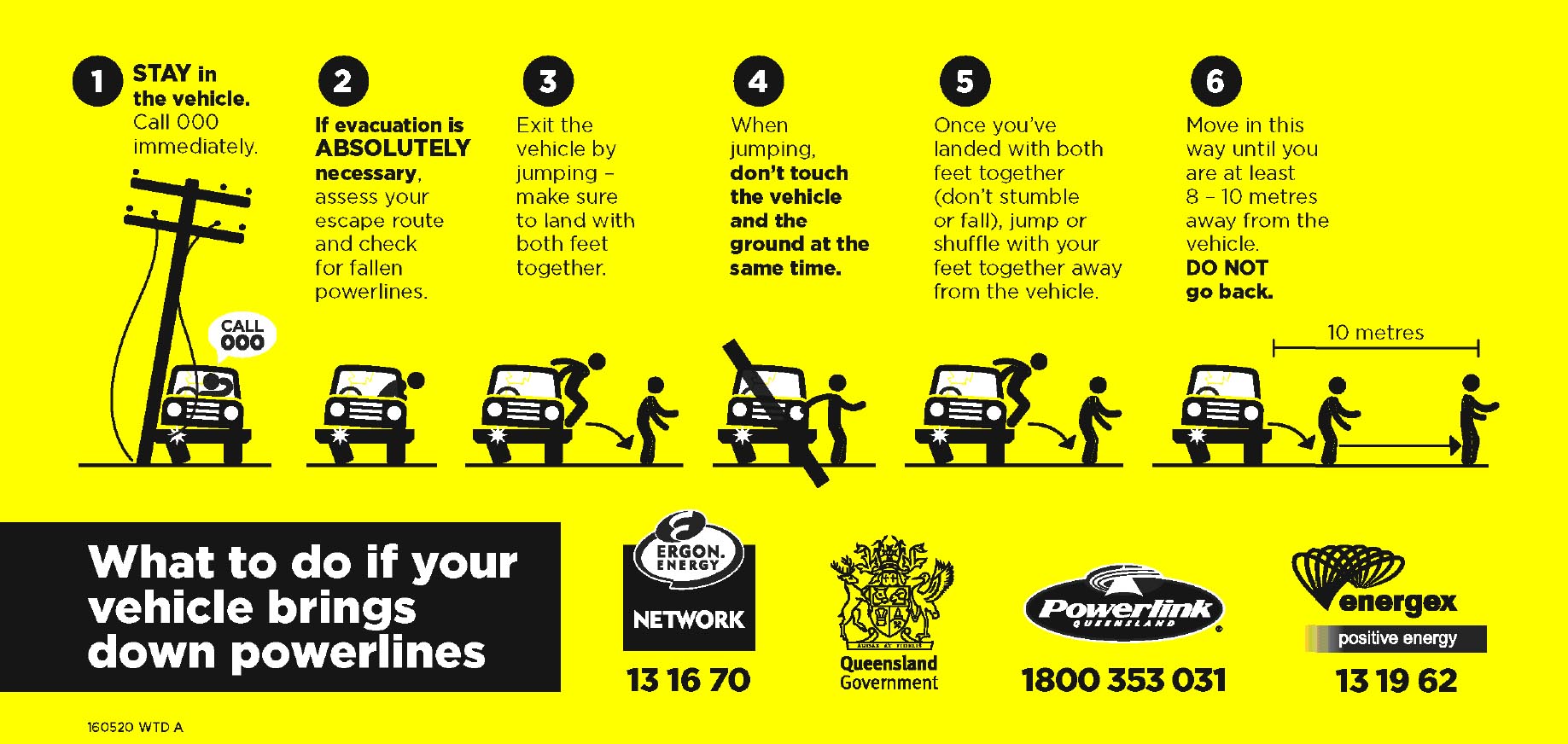 Stay safe after accidents bring down power lines
Motorists in accidents involving electrical infrastructure face additional risks if they don't follow the correct procedures to remain safe.
Energex's Group Manager Safety Darryl Bell said that while the priority must always be to prevent accidents, it was also important for motorists to understand what to do if a crash involved power poles, stay wires or pillar boxes.
"There were more than 1,900 electrical safety incidents arising from motor vehicle accidents and accidental contacts by trucks in the past year across Queensland and all of these presented dangerous situations for drivers and passengers of the vehicles and other people arriving at the scene," Mr Bell said.
"The main danger arises when the impact of a vehicle on a pole or other equipment supporting the network results in a power line falling on to or near the vehicle.
"It is essential in these cases to assume the line is live and therefore the vehicle also may be live and carrying the same voltage as the line.
"That's why, unless there is an imminent risk of fire or an explosion, the driver and passengers should remain inside their vehicle until emergency services advise it is safe for them to leave.
"Equally, it is vital that bystanders or emergency services don't endanger their own lives by attempting to come to the assistance of motorists where there are fallen power lines in the vicinity.
"People and emergency services personnel arriving at the scene of an accident in these circumstances should remain at least 10 metres clear of any fallen lines, vehicles or anything else in contact with a line.
"Motorists also should be aware a massive electrical current may flow through the vehicle's tyres and this can cause the tyres to explode on contact or could cause the tyres to burn internally for up to 24 hours after the accident."
Mr Bell stressed that an emergency evacuation was extremely dangerous and should be attempted only as a last resort, using the following approach to minimise the risks:
Jump well clear ensuring you don't have contact with the vehicle and ground at the same time.
When you jump, ensure you land with your feet together. If required, take another one or two jumps with your feet still together, ensuring you do not touch the vehicle, fall forward or backward or allow your feet to step apart.
Jump with your feet together until you are at least 10 metres clear of the vehicle, power lines or anything else in contact with them.
Once clear, do not return to the vehicle for any reason.
Mr Bell said motorists or others at the scene should call Triple Zero (000) to alert authorities and let them know power lines had fallen so Energex or Ergon Energy could remotely de-energise the line.
He said the majority of accidents involving electrical infrastructure occurred when drivers lost control of their vehicles, but too many also occurred because motorists failed to look out for power poles and pillar boxes when reversing or parking.
Ergon and Energex have produced an animated series of videos where motorists can check that they know the correct procedures to follow if involved in an accident involving the power network.
They can be found at http://bit.ly/2hnRUPy
Ergon Energy, Energex, Powerlink and the Electrical Safety Office have also developed a sticker to attach to sun visors of vehicles to remind drivers in times of emergency.
Energex