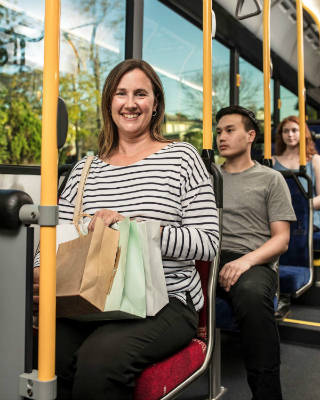 Christmas comes early for public transport as fares reduced
Get on board with Fairer Fares!
From Monday 19 December, the Queensland Government is making travel on public transport cheaper and easier with fares slashed across all zones of travel and 23 travel zones simplified down to eight.  
There'll also be extra benefits for the family with children 14 and under travelling free on weekends when they use an orange child go card. Combined with off-peak fares for adults, getting around on the weekend has never been cheaper!
Further, the Government is extending the off-peak period until 6am means those who begin work early may save up to 20 per cent on the cost of their journey.
The new weekly reward 'eight and 50' provides regular travellers with savings with 8 paid journeys and 50 per cent off subsequent journeys per week. With lower fares across all zones, it means a person travelling from Greenslopes to Brisbane CBD thirteen times a week used to pay $35.37 with '9 and FREE', and will now pay as little as $32.64 with 'eight and 50'.
So get on board and start saving!