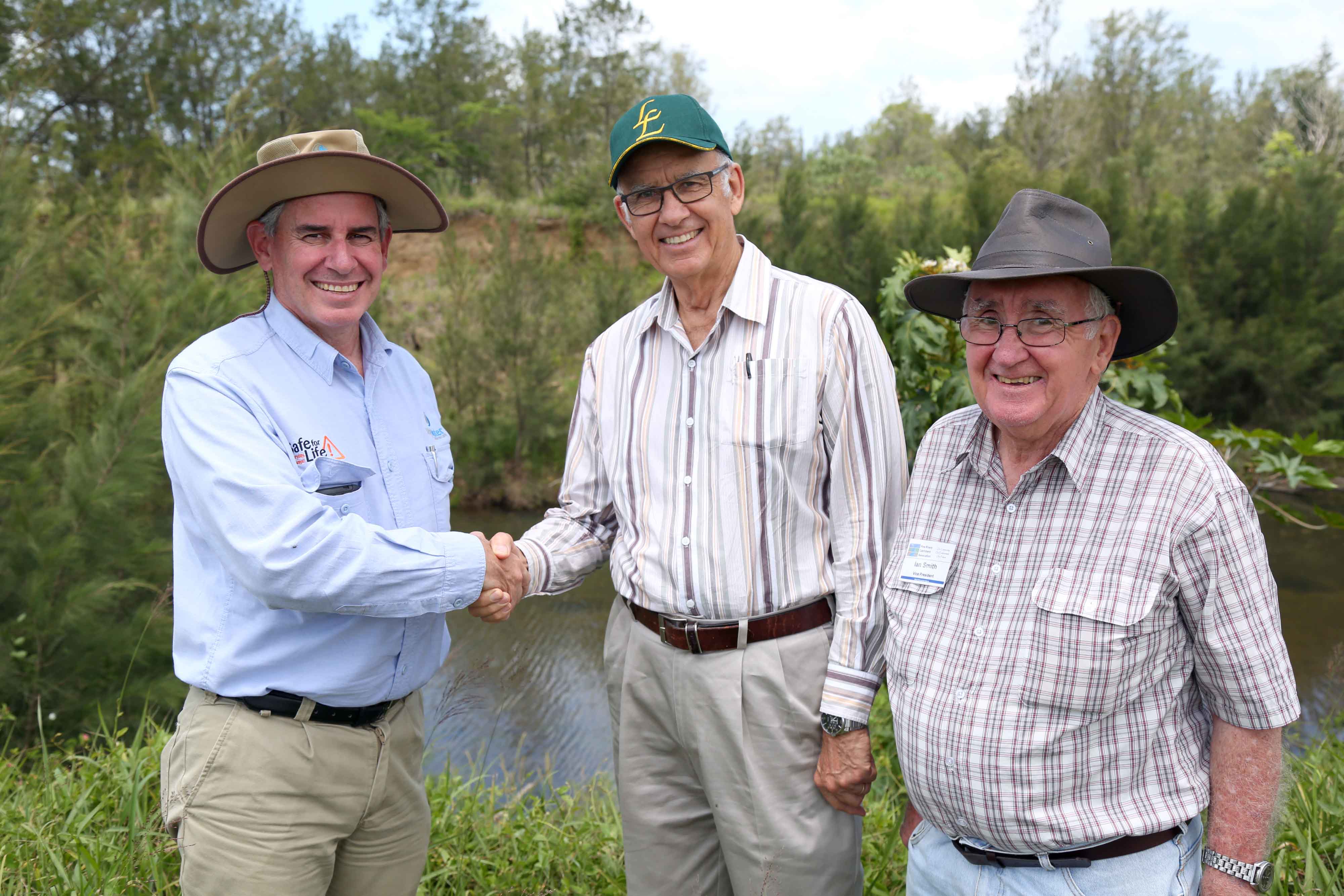 Seqwater signs multi-year agreement with the Pine Rivers Catchment Association.
Seqwater has signed a five-year agreement with the Pine Rivers Catchment Association to expand initiatives that help protect the environment and source water quality in the region's fourth largest water supply dam, North Pine.
Pictured above is (L-R) Seqwater Acting CEO Jim Pruss with PRCA President Jim Dale and PRCA Vice President Ian Smith.
The agreement, worth $1.8 million over five years, builds on Seqwater's long-standing partnership with the environmental group in improvement projects within the North Pine Dam (Lake Samsonvale) and Lake Kurwongbah catchments.
Since it was formed in 1994, the Pine Rivers Catchment Association has been actively working towards the sustainable management of the North and South Pine River catchments.
President Jim Dale said the not-for-profit organisation had three goals: weed control, preventing soil erosion and improving water quality.
"The work we've undertaken over the years has included planting trees, managing the spread of canopy weeds — such as cat's claw creeper — and educating landowners on how to enhance the condition of our catchments," Mr Dale said.
"Over the years, Seqwater has remained a key partner and we are grateful for that ongoing support. This new agreement really speaks to the authority's confidence in what we are doing.
"With this five-year agreement, we can plan, coordinate and deliver multi-year weed eradication programs, which will result in even more successful outcomes.
Seqwater Acting Chief Executive Officer Jim Pruss said the partnership promised positive outcomes, particularly in managing water quality risks to the source water supply.
"Water treatment starts on our catchments and Seqwater works hard to improve catchment health," Mr Pruss said.
"Through the partnership with the Pine Rivers Catchment Association, Seqwater is targeting source water risks, remediating the catchment and delivering projects using local networks and experience.
"The Association also facilitates access to private land and works to form strong relationships with local landholders.
"Partnerships like this one help us to provide a safe, secure and cost-effective drinking water supply to South East Queenslanders."