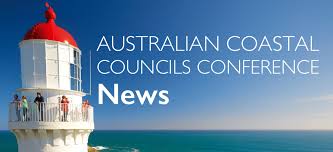 Moreton Bay wins National Conference bid
Moreton Bay has been unveiled as the winning bid for the 2017 Australian Coastal Councils Conference.
Mayor Allan Sutherland said Moreton Bay Region had beaten out a host of other councils to secure the prestigious national conference in May 2017.
"More than 200 of Australia's top local government, planning, coastal and environment experts will travel to and stay in our region bringing vital tourism and economic dollars to our region," Mayor Sutherland said.
"Our region has already been recognised by the Australian Local Government Association as the strongest economy in Queensland and the 14th nationally - so it is little surprise that Moreton Bay has caught the eye of councils from across the country."
Alan Stokes, Executive Director of the Australian Coastal Councils Association acknowledged the quality of the joint bid submitted by Moreton Bay Regional Council and Moreton Bay Region Industry and Tourism for the conference.
"Moreton Bay Region is an ideal location for our conference with over 170 kilometres of coastline, stretching from the Redcliffe Peninsula to Bribie Island in the north," Mr Stokes said.
"In total, the region covers more than 2,000 square kilometres of local beaches, hinterland areas, and significant waterways, including Moreton Bay, Deception Bay, Hays Inlet and the Pumicestone Passage.
"Conference attendees will be treated to an exciting program of keynote speakers on regional sustainability, trends in economic development in coastal areas, and current impacts of climate change."
The Australian Coastal Councils Conference will be held from 3 - 5 May 2017at Mon Komo Hotel in Redcliffe.
Council's Economic Development Spokesperson, Councillor Julie Greer said the conference venue had been selected by the Australian Coastal Councils Conference Association due to its ready access to hundreds of hotel rooms, conference and catering facilities on the one site.  
"Mon Komo is one of our region's premier conference facilities located within the iconic Redcliffe Seaside Village, it boasts café's, restaurants, local tourist operators and of course our world-famous Bee Gees Way," Cr Greer said.
"With the help of Moreton Bay Region Industry and Tourism the conference program has been strategically developed to run from Wednesday to Friday to give attendees the opportunity to extend their stay and explore more of our beautiful region before heading home."
The conference program will showcase a range of venues and facilities from across the region with attendees visiting Pumicestone Passage, Redcliffe foreshore, Bribie Island, in addition to other areas such as Beachmere illustrating works to deal with coastal erosion. 
Moreton Bay Region Industry and Tourism CEO, Shane Newcombe welcomed the announcement and said the timing of the conference couldn't be better.
"Held in May 2017 - this conference will bring a welcome post-Easter boost to our region's accommodation providers, tourism operators, local cafes, restaurants and small businesses," he said.
Council's representative on the Australian Coastal Councils Association, Councillor Peter Flannery said the conference would be a great opportunity for the region to showcase its natural assets, local businesses, hotels and tourism product to the rest of the country - while highlighting the region's sustainable approach to identifying and managing coastal hazards.
For more information about the 2017 Australian Coastal Councils Conference contact info@coastalcouncils.org.au
Registrations will open shortly, with a preliminary program.