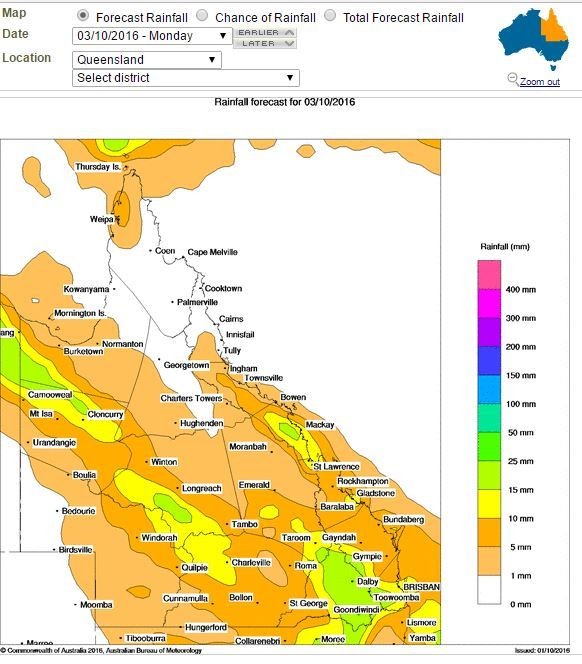 A burst of rain set for Monday holiday for Moreton Bay Region and SE Queensland
The last of a series of trough systems is set to push through Queensland tomorrow. The system will create widespread patchy rain, showers and isolated thunderstorms for most of the southern 2/3rds of Queensland south of about Ingham on Monday. 
Overall rain amounts aren't going to be very high, but it will be decent top up rain for areas in Southern QLD after the deluges of September. Inside that general precipitation will be heavier falls associated with individual storm cells that won't show up on the map above. Any storms that form tomorrow will push eastwards quickly towards the East coast of Queensland and then offshore.
If any stronger storms form tomorrow damaging winds are a possibility, but the amount of cloud cover across the state will limit much of the stronger storm potential. 
The Bureau of Meteorology advises only Strong Wind Warning for the following area for Gold Coast Waters & Cloudy. Very high (90%) chance of rain, most likely in the late morning and afternoon. The chance of a gusty thunderstorm. Winds north to northwesterly 15 to 25 km/h turning westerly 20 to 25 km/h in the evening.
While Tuesday will have a return to sunny conditions with westerly winds 15 to 20 km/h becoming light before dawn then becoming westerly 15 to 20 km/h in the morning.