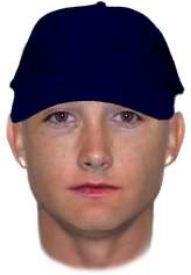 Redcliffe Sexual assaults Comfit released QPS
Police have released a computer generated image of a man that may be able to assist with their investigations into two sexual assaults in the Redcliffe area.
On August 8 a 56-year-old woman was walking along Thompson Crescent in Clontarf around 3.45pm when she was approached by a man who engaged her in conversation before pushing her to the ground.
When the woman attempted to get up the offender pushed her to the ground again.
He fled the scene after being challenged by another woman who was walking past at the time.
The man is described as being aged in his 20s, Caucasian in appearance, around 178cm tall with light hair, medium build, and large holes in his ear lobes where spacers have been.
He was wearing a dark coloured baseball cap, red t-shirt, blue football shorts and white running shoes.
Police believe this incident may be linked to a similar offence the next day on August 9 where a 49-year-old woman was walking near Apex Park on Hornibrook Esplanade at Woody Point around 6.50pm when a man appeared from behind a tree.
He had a conversation with the woman before exposing himself.
The offender meets a similar description and was wearing a blue hooded jumper with dark tracksuit pants.
Anyone who may have seen anything suspicious or recognises the man in the image is urged to contact police or Crime Stoppers on 1800 333 000.
Anyone with information which could assist with this matter should contact Crime Stoppers anonymously via 1800 333 000 or crimestoppers.com.au 24hrs a day.
Crime Stoppers is a registered charity and community volunteer organisation working in partnership with the Queensland Police Service.
For all non-urgent police reporting or general police inquiries contact Policelink on 131 444 or Policelink.qld.gov.au 24hrs a day.