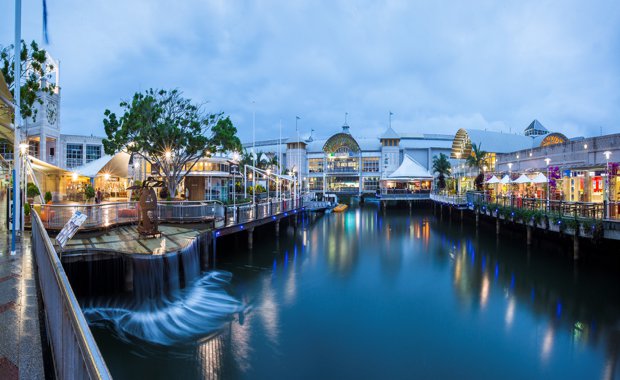 Sunshine Plaza Receives Developmental Approval
Sunshine Plaza, located in Maroochydore on Queensland's Sunshine Coast, has gained final approval to commence construction of a $400 million redevelopment, which is jointly owned by the Australian Prime Property Fund Retail, managed by Lendlease and The GPT Group.
Affirming its position as the largest retail centre north of Brisbane, Sunshine Plaza will expand from 73,000 square metres to over 107,000 square metres turning the strong performing centre into a leading fashion, leisure and tourist destination. Customers will enjoy an enhanced retail mix with the region's first David Jones department store, a new BIGW, a refurbished Myer, a stunning new Amaroo Street mall entrance, provision for large format fashion operators and over 100 new specialty stores, bringing highly sought-after fashion brands to the Sunshine Coast.
The first stage of the redevelopment will involve the construction of a car park on vacant land behind Toys R Us. This will provide alternative customer parking during the construction of the first multi-deck car park, located at the Kmart entrance. Lendlease's Head of Retail, Gary Horwitz, said extensive community consultation provided deep insights into the needs and aspirations of the local market.
"We are thrilled to be creating this amazing retail space for the Sunshine Coast. The design will capture the community's desire for a sophisticated experience whilst reflecting the Sunshine Coast's rich natural beauty and relaxed coastal lifestyle.
"We are proud of our strong history at Sunshine Plaza, having delivered innovative and unique retail experiences which celebrate the outdoor coastal strengths of the region. The Centre already achieves solid results, ranking second in Queensland for specialty sales productivity and performs significantly higher than the national benchmark.
"The current performance of Sunshine Plaza indicates a strong demand for an expanded retail offer," Mr Horwitz said.
GPT Group's Head of Investment, Retail Scott Meehan said the development would strengthen Sunshine Plaza's reputation as the Sunshine Coast's leading retail and leisure destination.
"GPT is excited to invest in the expansion of one of its best performing shopping centres, which is located in a market that should continue to benefit from strong population and tourism growth."
"This expansion will introduce more than 100 retailers to Sunshine Plaza, including the region's first David Jones, which will reduce the need for local residents to shop outside the Sunshine Coast," Mr Meehan said. The transformed centre will feature new outdoor waterfront dining along Cornmeal Creek, further enhancing the 'indoor/outdoor' experience at Sunshine Plaza.
Two new multi-level car parking facilities will ensure convenient access with over 1,400 additional car spaces, taking the total number of spaces to nearly 5,000. It is estimated that the redevelopment will generate up to 2,900 jobs during construction and approximately 2,300 additional retail positions once the project is complete.
Lendlease's Building business will design, project manage and construct the project. Lendlease has an outstanding track record in retail delivery – in particular, extensive experience in managing construction work in live retail environments, allowing retail centres to maintain trade and operate safely. Construction is expected to start this month and will take approximately two years, with completion prior to Christmas 2018.
Source: The Urban Developer