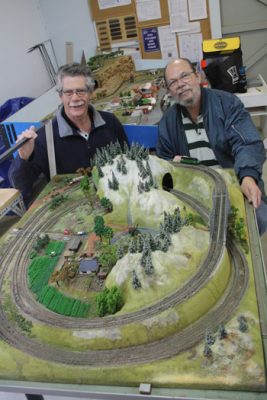 Railway fans make tracks for big show show at Strathpine
Hundreds of railway model enthusiasts from around Queensland will be making tracks for Strathpine this weekend.
The Brendale-based Railway Modellers' Club of Queensland (RMCQ) will host its annual show, the Pine Rivers Model Train and Hobby Exhibition, over two days at the Strathpine Community Centre.
Around 25 exhibitors will showcase model train displays based on railways in Queensland, New South Wales, Tasmania, the United Kingdom and the United States of America, as well as radio-controlled boats and submarines.
"Lots of kids go through a period where Thomas the Tank Engine is popular, so there will be a lot of kids there, plus the adults," RMCQ Secretary Quentin Nosovich said.
The exhibition will also feature gamers who will be re-enacting Europe's famous seven-year war of 1756–1763.
Vendors will be on hand selling every-thing from model trains and cars and building materials and accessories, to new and out-of-print railway books and train- related DVDs, CDs and computer games.
RMCQ, which was established in 1974 and has been based at Brendale since 2001, has 90 members dedicated to pro-moting interest in railways and railway modelling.
Mr Nosovich joined RMCQ in 1980, drifted away from the hobby and last year re-joined the club, which meets monthly at its Buckley Park headquarters.
"Often if you start with a train set you get sick of running it around in a circle, so you look to do more," the Cashmere local said.
"You might decide to buy more track or start a layout or you might have a particular interest in say, building scenery or making models.
"If you join a club you meet like-minded people and get advice.
"Some (members) are train drivers who like their job and that often translates to a hobby interest."
Mr Nosovich said model train technology had advanced so far that scale trains, and track functions such as railway lights and boom gates, could now be operated by smart phones.
The Pine Rivers Model Train and Hobby Exhibition is at the Strathpine Community Centre, 199 Gympie Road, Strathpine on 6-7 August from 9am to 4pm.
Entry is $7 for adults, $17 for families, $6 for seniors and concessions and $2 for children. Visit www.rmcq.org.au.
Source: The Westerner