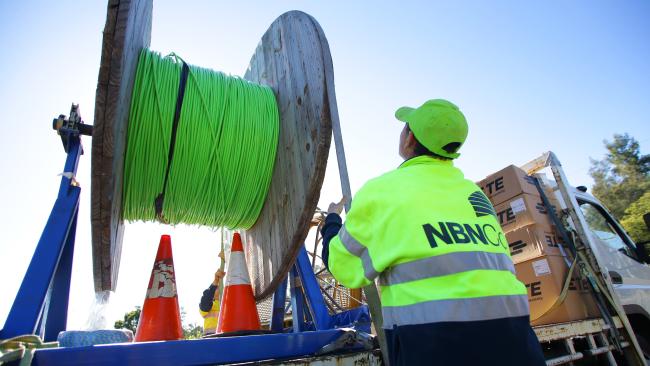 NBN full-year results show 'dramatic turnaround', Government says
The Federal Government says the rollout of the National Broadband Network (NBN) has made a "dramatic turnaround" after the Coalition rescued the "failed project".
According to the snapshot released today, 2.9 million premises are now able to connect to the network, double the number from 12 months ago.
The number of premises that have an actual connection stands at 1.1 million, also twice the number from the same time in 2015.
Communications Minister Mitch Fifield has championed the result, saying the Coalition had rescued what he described as a "failed project" since it came to office.
"The story today from the end of financial year results, really is evidence of one of the most dramatic turnarounds in Australian corporate history," he said.
According to NBN, revenue more than doubled from $164 million to $421 million in the 2015/2016 financial year, exceeding an earlier target of $300 million.
NBN rollout 'very much on track'
In a statement, NBN chief executive Bill Morrow said the company had met or exceeded every target the board set for the year.
"This is the ninth consecutive quarter of meeting or exceeding targets," he said.
"As we have confirmed throughout the year, the rollout of the NBN network is very much on track."
"Today, nearly two thirds of the nation's premises are currently in design, in construction or able to order an NBN service, and that is tangible progress."
Senator Fifield defended the number of premises that have access to NBN but have not connected to the network.
"People have a period of time to migrate across to the NBN on the fibre to the node component of the network," he said.
"After a period of time, their existing service will be removed and they'll have to switch over to the NBN, but there is a migration period available."
Eighty-two per cent of premises with a fixed line connection have download speeds of 25 mbps or less, despite a top speed of 100 mbps being offered by NBN.
Senator Fifield said customers were choosing connections "which meet their needs".
"People are opting for lower speeds," he said.
"So, we're building a network that has the capacity to upgrade over time, but it's being built in a way that meets the needs that people have."
In a statement, shadow minister Michelle Rowland said the rollout of the network was "hardly on target" and that the Government needed to prioritise more fibre to the premises connections.
Source: ABC News