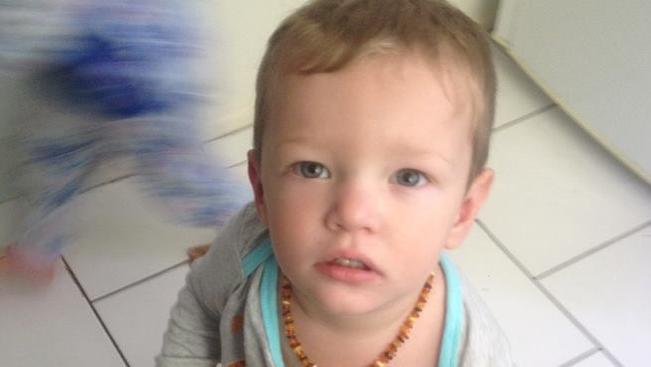 Mason Lee: Child safety authorities so close to saving toddler
Two of the three people charged over Caboolture toddler Mason Lee's death have had their matters briefly mentioned in court.
The 21-month-old's mother, Annemarree Lee, and her boyfriend, William Andrew O'Sullivan, did not appear in court for the hearings, which each lasted a matter of minutes.
Their matters were scheduled to be heard again at Caboolture Magistrates Court on September 28.
Police determined they would have their brief of evidence ready by September 14.
Solicitor Nick Dore appeared in court for O'Sullivan, while Brendan Ryan appeared for Lee.
The third accused person, 17-year-old Ryan Hodson, was last week released on bail following a Supreme Court application.
It has been heard in court that child safety officers visited the home of Mason Jet Lee's mother only three days before the toddler died, but failed to realise he was dying at his stepfather's property only a kilometre away, court documents allege.
It is alleged the 21-month-old's mother told officers that Mason was not home and was staying at her partner William O'Sullivan's nearby Caboolture South home – four minutes' drive away.
She believed officers were going to try to see him there but the toddler – who would have turned two today – died in pain on June 11 with a ruptured intestine after five days of vomiting and allegedly having his face rubbed in it "like a dog".
O'Sullivan, mother Annemarree Lee, and Ryan Hodson, 17 – who also lived at the home where Mason died – are each charged with manslaughter for allegedly failing to provide the toddler with the medical treatment he desperately needed.
In witness statements tendered to the Brisbane Supreme Court last week in opposition to Hodson's bail, his girlfriend Sheila Low alleges child safety officers were at Lee's Compass St home on the Tuesday or Wednesday before Mason died.
"She (Lee) told me that Child Safety was assisting her and did a welfare check at her house three days prior," Ms Low, 30, told police in a statement.
"I asked about Mason and she said that they hadn't seen him as he was with Will (O'Sullivan). She was told that Child Safety were going to try to see Mason at Will's."
According to court documents, medical experts believe Mason died at O'Sullivan's Deanne Court home from a perforated intestine caused by a "punch or similar" to his upper abdomen no earlier than five days before his death.
Two doctors told police that with proper medical intervention, Mason could have survived.
Mason came to the attention of the department in February after he was admitted to the Lady Cilento Children's Hospital and doctors suspected abuse.
Ms Low told police that she had raised concerns with Hodson about O'Sullivan allegedly showering with Mason for more than an hour at a time. She says Hodson replied: "What the f--- do you want me to do I'm not going to accuse my mate ... what if he isn't do (sic) anything wrong."
A transcript of a conversation recorded with surveillance equipment O'Sullivan kept at home also forms part of evidence police submitted to the Supreme Court.
Hodson told Ms Low he encouraged O'Sullivan to rub Mason's face in vomit.
"F--- him. The stupid dog c---. I told him 'you want to act like a dog, get on the floor like a dog'," Hodson allegedly says in the recording.
On the same day, Hodson is allegedly recorded saying he will "f------ hit" Mason if he wants to "cry and yell". Ms Low told police she previously took O'Sullivan to task for treating Mason "like a dog" and he replied: "Well he's old enough to eat he's old enough to learn not to spew."
She said she saw Mason two days before his death lying on O'Sullivan's bed covered in his own vomit.
According to police, O'Sullivan left Mason unsupervised for about 20 minutes on the night of June 10 and was seen on CCTV outside his front door "whimpering to himself that 'I can't f------ do this'."
O'Sullivan left the home and returned with another man, Shane Gruber, who called ­triple-0.
A spokesman for the Department of Communities, Child Safety and Disability Services said the department was unable to comment on a matter before the courts.
"This case is being reviewed by an independent, expert panel, which will make recommendations back to government on any improvements that can be made,'' the spokesman said. "The Minister for Child Safety has already committed to implementing the recommendations.''
Hodson was granted bail last week to reappear in court next month, while O'Sullivan, 35, and Lee, 27, are still behind bars and due in the Caboolture Magistrates Court today.
TIMELINE
16 August 2014: Mason Jet Lee is born at Caboolture Hospital
18 November 2014: Mason is hospitalised at Caboolture with bronchiolitis
27 June 2015: Mason is taken to the Morayfield Medical Centre with severe nappy rash
Late 2015: Mason's mother Annemarree Lee begins a relationship with William O'Sullivan
17 January 2016: The toddler is again taken to Morayfield Medical Centre, this time with a large bruise to his forehead, damaged lip and tender left shin. He is referred to Caboolture Hospital but there is no record he was ever presented there
February/March 2016: Mason is admitted to hospital with a severely infected leg. He is diagnosed with a spiral fracture of the left tibia and doctors note "neglect concerns"
25 May 2016: The child is taken to Morayfield Road Medical and Dental Centre where he is immunised, despite having a temperature. Lee says O'Sullivan took Mason to live with him the same day
7 June 2016: Lee, O'Sullivan and Hodson are approached by a staff member at Best and Less Morayfield who comments Mason does not look well. A police officer says he also saw the child at the centre and noticed he was sickly
7 or 8 June 2016: Child Safety officers visit Lee's home at Compass St, Caboolture South, for a welfare check, according to witness Sheila Low
10 June 2016: Ms Low and Hodson are recorded arguing about Mason's face being rubbed in vomit "like a dog"
11 June 2016: A visitor to O'Sullivan's home makes a frantic Triple 0 call, but nothing can be done to revive the toddler
29 July 2016: O'Sullivan, Lee and Hodson are arrested and charged with manslaughter
Source: Courier - Mail