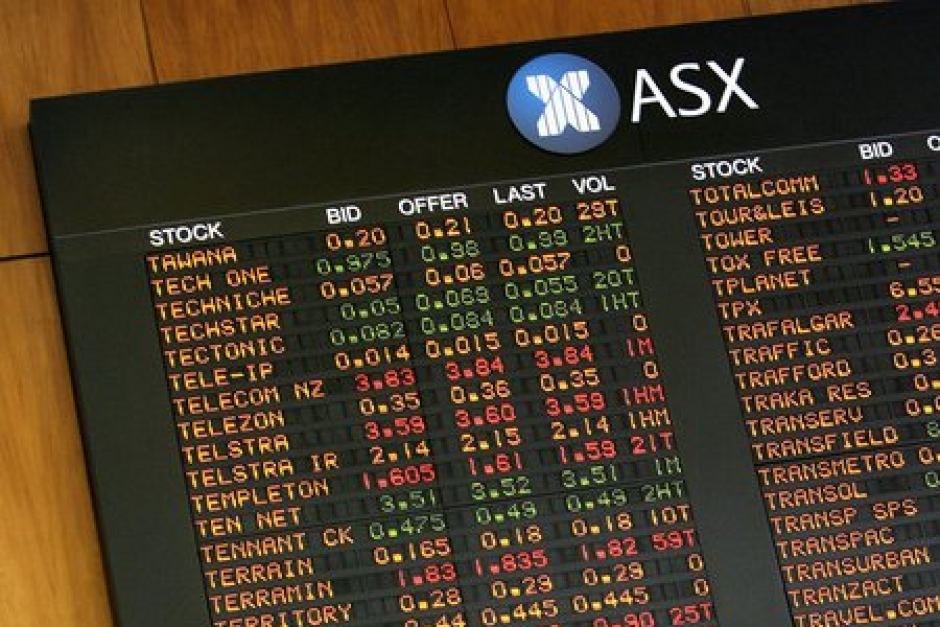 Market close: Australian shares end higher as banks, energy companies offset losses
Australian shares have had a lacklustre day with a rally for bank and energy stocks offsetting losses in most other sectors.
Markets at 5:48pm (AEST)
ASX 200 +0.3% to 5,553, All Ords +0.2% to 5,637
Major gains: Mesoblast +6.6% to $1.21, Bendigo and Adelaide Bank +3.8% to $10.54, Qube +3.7% to $2.81
Major losses: IOOF -7.6% to $8.60, Spotless -3.8% to $1.15, Iress -3.3% to $10.65
Futures: Euro STOXX 600 flat at 340.7, FTSE +0.1% to 6,773, S&P 500 flat at 2,176
AUD: 76.4 US cents, 58.8 British pence, 78.2 Japanese yen, 69 euro cents, $NZ1.073
Company reporting season has kicked into gear and the results so far have some investors hitting sell.
Bank stocks led the way despite ANZ revealing unaudited net profit for the nine months to the end of June had slumped by nearly a quarter, as bad debt charges dragged on earnings. The bank's preferred measure, cash earnings, slipped by 3 per cent.
But, investors remained optimistic as the bank said it had been tidying up its balance sheet in an attempt to improve credit quality and cut risks. ANZ shares jumped by 2.9 per cent to close at a seven-month high of $26.44.
Among other big banks, NAB added 2.2 per cent to $26.82.
Elsewhere, embattled wealth manager IOOF went the other way, faring the worst on the benchmark index after posting a 42 per cent jump in full-year net profit but a drop in margins in some of its key businesses. IOOF slumped 7.6 per cent to $8.60, a three-week low.
Elsewhere, News Corp closed 1 per cent higher at $17.65 after swinging back to profit for the full year, helped by its digital real estate and book publishing arms. Annual net profit came in at $US177 million.
Biotech company Cochlear fared the worst of the healthcare sector as the world's biggest hearing implants maker warned profit growth was likely slow this year.
Cochlear reported a 30 per cent rise in full-year profit for 2016 to $189 million, but said that would slow to 15 per cent. It lost 2.8 per cent to close at a three-week low of $125.
In economic news, NAB's latest business survey shows business confidence and conditions weakened last month, amid political uncertainty in Australia and overseas.
But NAB said despite the fall, business conditions remain stronger than average, suggesting firms remain resilient.
Economists at NAB have also warned the Reserve Bank may need to resort to aggressive new measures to boost the economy.
NAB has changed its interest rate forecasts, and now expects the official rate to be cut twice next year, taking it down to 1 per cent.
The bank said once rates hit that level, the RBA may need to consider some form of unconventional monetary policy.
On commodity markets, oil prices are down after big overnight gains on speculation OPEC could cap production; Brent crude was buying about $US44.87 a barrel. Spot gold was slightly lower at about $US1,332 an ounce.
Source: ABC News