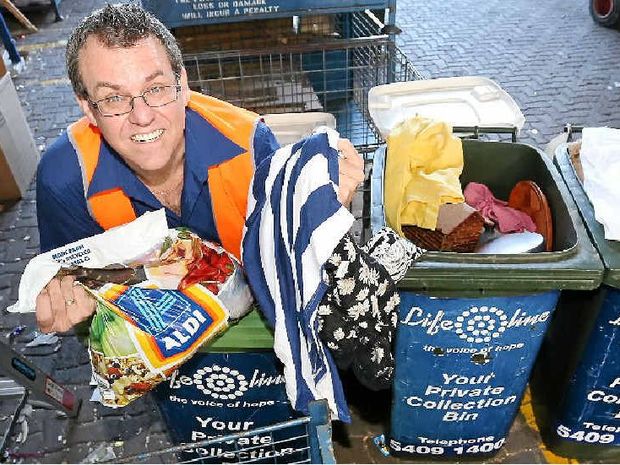 Making your clean up 'wheelie' easy
Sunshine Coast and Caboolture residents can now reduce the hassle of moving house or renovation by filling up Lifeline 240 litre wheelie collection bins with unwanted good quality items.
The wheelie bins concept is simple: you can call Lifeline on 5409-1400 (Sunshine Coast) or 5431-4860 (Caboolture) to book a wheelie bin, which is then delivered straight to your front door.  After placing all your unwanted goods into the wheelie bin, Lifeline will then come and collect it one week later. 
"If you have possessions that you no longer need but are in a good condition, Lifeline would appreciate them.  We encourage the community to think before they throw their old possessions and donate their reusable items such as clothing, small furniture, books, linen and kitchenware.  because maybe somebody else can use them," said Ian Ezzy, Lifeline Business Manager Sunshine Coast.     
 Items that cannot be accepted are torn or stained mattresses; broken lounge or broken furniture; ovens, dishwashers, cots or vertical blinds. If it's broken, rubbish bin is the best place for it.
 Mr Ezzy said that if you have anything that is too large to fit into the bins, items can still be donated when the bins are being collected.
 "Just give us a call to let the truck drivers know that there will be large or extra items for collection, and they will make sure they leave space on the truck or organise a time to collect them.  This definitely takes the hassle out of moving house or a spring clean," said Mr Ezzy.
 Each year, Lifeline shops rely on the donation of saleable goods, whereby proceeds from sales go towards life-saving services such as the 13 11 14 Lifeline crisis line, community recovery and crisis support online chat. 
 "By donating or shopping at Lifeline shops, you can truly feel as if you have taken active step to help save lives," said Mr Ezzy. 
 If you would like to order a Lifeline Wheelie Collection bin, please contact Lifeline Sunshine Coast on (07) 5409 1400 and Lifeline Caboolture on (07) 5431 4860 during business hours.