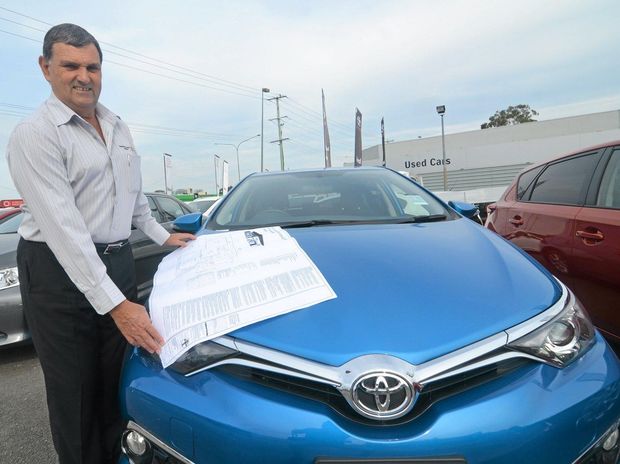 LifeFlight receives generous donation of $20,000 from Ray Jonkers of Martin Jonkers Toyota
Ray Jonkers of Martin Jonkers Toyota and Caboolture Yamaha has spent the last 12 months raising money for the RACQ LifeFlight Rescue helicopter service.
As a former competitive motocross rider Mr Jonkers has witnessed LifeFlight airlift many seriously injured motorbike riders and is a great supporter of the life-saving service.
Mr Jonkers presented LifeFlight Community Engagement Coordinator Jodi Durkin with a donation of $20,000 raised with the help of the local community.
At the event was LifeFlight Community Engagement Manager Jodi Durkin with Ray Jonkers as well as Strathpine local, former motorbike rider and LifeFlight patient Keren Wheeler.
Mrs Wheeler lost her leg in a serious crash two years ago when the motorbike she was riding careered off a hill near Maleny. She credits LifeFlight with saving her life.
In the 2015-2016 financial year, RACQ LifeFlight Rescue helicopters completed 1864 missions, including airlifting 107 patients who were involved in serious motorbike and quad bike accidents.
LifeFlight critical care doctors attended the scene of 83 motorbike accidents, 68 involved off-road motorbikes and quad bikes, and 15 were on-road crashes.
Additionally, the RACQ LifeFlight Rescue helicopters airlifted 24 patients from hospital who had been involved in serious off-road and on-road motorbike accidents.
Since 1981, LifeFlight has been a vital lifesaving part of Queensland and over the 35 years the organisation has flown 44,000 critical rescue missions.
RACQ LifeFlight Rescue (formerly known as RACQ CareFlight Rescue) has been Queensland's major community rescue service, helping patients in their hour of need.
The not-for-profit service has provided a lifeline of emergency care for people when the challenge of distance across this vast state comes between them and first class emergency medical treatment.  Read more at www.lifeflight.org.au