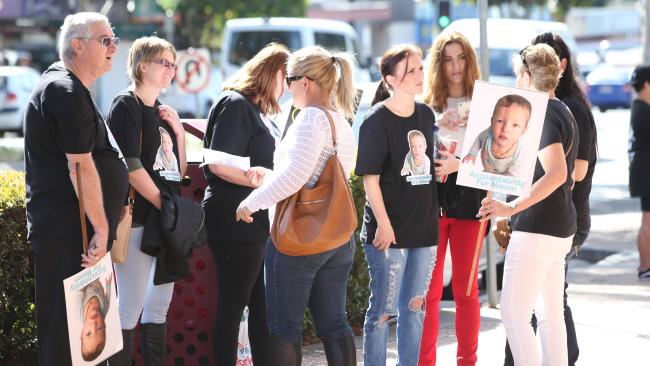 Lawyer for Mason Lee's mother says she has been incorrectly charged and will fight charge
Protestors  demanding justice for toddler Mason Lee confronted his mother's lawyer following a brief hearing in the Caboolture Magistrates Court today.
The group had gathered outside the courthouse while the matters of Annemarree Lee and Mason's stepfather, William Andrew O'Sullivan, were mentioned before the court.
About a dozen people - mostly women - had gathered outside wearing shirts with Mason's photograph and held placards saying "RIP Baby Mason" and "Accountability for Mason".
Anna-Marie Stancombe, who spoke on behalf of the protesters, said they were outraged a third accused person, 17-year-old Ryan Hodson, had been granted bail.
"We just, as community members, came to support Mason," she said.
"We just want everyone to know that the community wants changes and accountability.
"People have gathered, they've taken time off work to be here to come and stand to show that we support Mason."
She said they questioned why Mason had been released from hospital earlier this year when it was suspected he'd been abused.
There is no suggestion that Lee, O'Sullivan or Hodson committed the abuse. They have been charged with manslaughter for allegedly failing to provide the toddler with medical treatment.
Neither Lee or O'Sullivan appeared, but Lee's lawyer Brendan Ryan was confronted by several women as he attempted to answer questions from reporters.
It is unclear whether the women were with the protesters.
Mr Ryan said his client was dealing with the death of her son and would be fighting her manslaughter charge.
"Why?" a woman yelled.
Mr Ryan said he did not believe manslaughter was the correct charge for his client - but was again interrupted by the women.
"Is she in protection in the jail system, cause that woman doesn't need protection," one shouted.
"She's grieving after the loss of her child," Mr Ryan continued, before asking a journalist to repeat their question.
"It's a little bit difficult to hear you. In any event, my job is to protect her interests," he said.
"That's the right of every person who is charged with any offence."
O'Sullivan's case was also briefly mentioned in the Caboolture Magistrates Court on Tuesday morning. Both Lee and O'Sullivan's cases were adjourned for mention on September 28.
Source: Courier-Mail