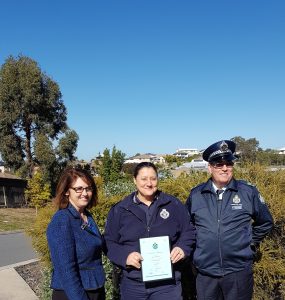 Introducing new Mango Hill Adopt-a-Cop Constable Barb Belesky
Mango Hill State School this morning adopted their new Adopt-a-Cop Constable Barb Belesky at a special assembly today.
North Lakes Officer in Charge Senior Sergeant Geoff Rogers presented Constable Barb and the school Principal Tracy Egan with their certificates of adoption.
Constable Barb said she was excited to be more involved with the school.
"I joined the program to help build a positive relationship between police and the school community, and looks forward to being involved in the school's up and coming events such as sports day and the school fair."
Constable Barb was then put straight to work handing out certificates to students for being student of the week.
Constable Barb also has special bond with the school as she has her two nieces Arliyah and Janade who attend, who were both very excited to see her and have a photo with their awesome Aunt.