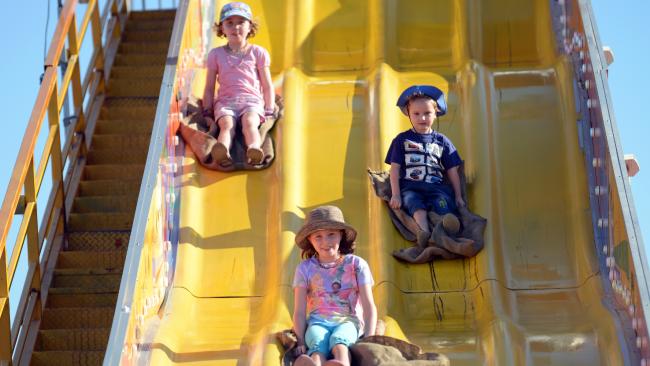 Festival fever hits Redcliffe, Caboolture and Strathpine but North Lakes left wondering where their big-ticket item is
North Lakes may seem to have it all, but when it comes to major events and festivals, residents are left asking "What about us?"
Organisers of the Northside Fun Fair have chosen not to hold the event this year, due to a lack of available land. But, it is not the only event missing from the local calendar.
Major festivals previously run by Moreton Bay Regional Council, now taken over by tourism marketing group Moreton Bay Region Industry and Tourism (MBRIT), bypass North Lakes, Mango Hill and Griffin, except for the annual Christmas carols event.
Redcliffe Festival starts later this month — over three weekends — including Kitefest, Scarborough Sounds. Jetty Fiesta and Redcliffe Remembers.
Also under the new partnership between the council and MBRIT, a new concert series, Park Sounds, has been announced for Strathpine's Pine Rivers Park, which will bring hip hop royalty Bliss n Eso and Drapht to the suburbs.
These events are part of the "service level agreement" between the two parties, which will sees $2.2 million a year for three years given to MBRIT to run the events and promote tourism to the region.
In addition to Redcliffe Festival and Park Sounds, MBRIT will also take over the running of Australia Day events; a new Caboolture Town Square event; Caboolture Family Fun Day; The Hills Carnivale; What's Cooking in the Gardens, Festival of Sails, the Innovation Awards, business networking events and Christmas events. MBRIT will also continue running the Jetty 2 Jetty Fun Run on the Redcliffe Peninsula.
Locals have asked to share in the action.
Mum-of-two Shannon Buttriss said she would like to see North Lakes, Mango Hill and Griffin share in the major events.
"If we had a big event, it would help our local businesses and bring the community groups, churches and schools together as a community," she said.
Mrs Buttriss said last year's Mango Hill Anzac Centenary Festival, organised by the Mango Hill Progress Association, was the perfect example of a free community event, which showcased local bands, dance troupes and allowed for local businesses and community groups to connect with the community.
There is also community Christmas events in Mango Hill and Griffin and smaller events organised by Westfield and Stockland.
A spokeswoman for MBRC said council would continue to host smaller events, including movies in the park at North Lakes — and dive-in movies and a teddy bear's picnic, both at Deception Bay.
MBRIT chief executive Shane Newcombe said MBRIT would continue to host the North Lakes Christmas Carols and expected "strong attendance" from residents in this area at Redcliffe Festival and Park Sounds in November.
Mr Newcombe said MBRIT was "always looking for new and fresh ways to deliver the best possible festivals and events" and was looking for ways to include this area.
Source: Quest News