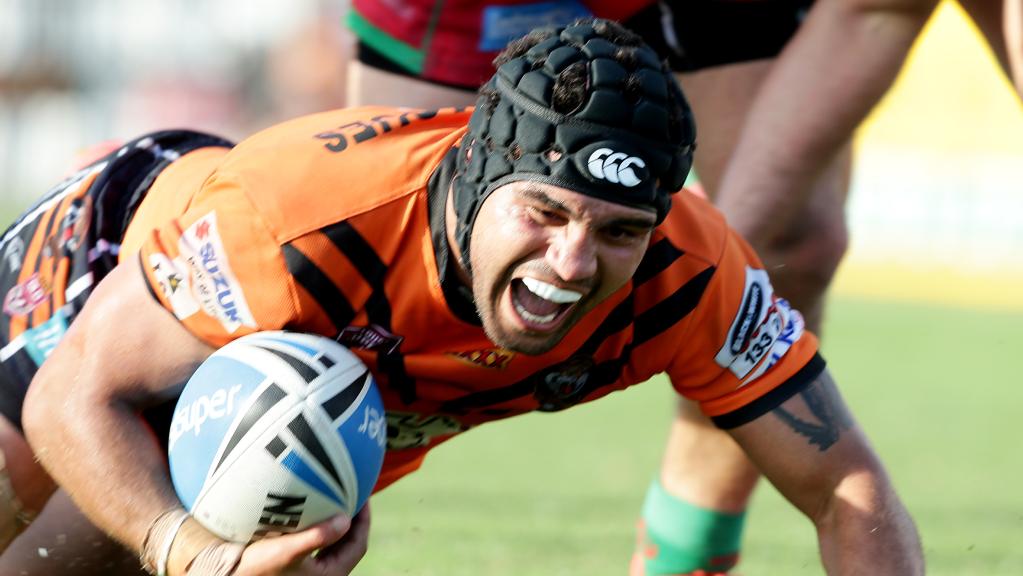 Easts to try and seal a finals spot against Redcliffe who have the minor premiership in their sights
Two teams riding two completely different waves of form will battle it out at Langlands Park on Sunday in our Intrust Super Cup Women In League Round Game of the Week.
Without a win in their past three games, the Easts Tigers will host the red hot Redcliffe Dolphins, who have the minor premiership in their sights after four straight victories.
Not only are Easts battling a form slump at the wrong end of the season, they are also battling a long injury list and the run of several teams who are coming for their finals spot.
Coming off the bye following a 38-8 loss to PNG two weeks ago, Easts coach Scott Sipple said he hoped to have Melbourne Storm forward Matt White back for the clash.
"Matty White coming back would be a huge boost for us and we might get him because he didn't play last week and Tim Glasby is back for the Storm," he said.
"Especially against a side like Redcliffe, Matt's an NRL quality prop and would give us some much-needed size and aggression but I won't know if he can play until later in the week.
"These next two weeks are huge for us if we want to play semi-finals, which the boys do, so I'm sure they'll be up for the challenge."
Dummyhalf Tommy Butterfield, who re-signed with the Tigers last week, will also face his former team — one of the sides who were vying for his signature for next season.
"Tommy is an absolute warrior, he will run through a brick wall for you and he's shown that in his time here so far. He's still playing injured now with his shoulder," Sipple said,
 "We want to be a club that people want to come to and along with these signings we've made some others too that will help us going forward."
Redcliffe sit just one point behind the first-placed Burleigh Bears and could take top spot with a win with the league-leaders to travel to PNG to play the Hunters. No team has beaten PNG at home this season.
Kick-off is at 1.40pm with the match also televised on Channel 9.
CQ CAPRAS (11th) versus SOUTHS LOGAN MAGPIES (7th) — Saturday, 6pm at Browne Park
THE inclusion of two Brisbane Broncos forwards will bolster Souths Logan's bid to reclaim their spot in the Intrust Super Cup's top six.
The Magpies were booted from the top six by the Sunshine Coast Falcons in a 48-12 defeat.
However, the inclusions of Herman Ese'ese and Joe Ofahengaue will bolster Souths Logan's pack as they take on the CQ Capras.
Coach Josh Hannay, who this week announced he would leave the Magpies at the end of the season to take up an assistant coach role with the North Queensland Cowboys, said his side needed to improve on last week's defensive effort.
"It was always going to be difficult (with the injuries the side had against Sunshine Coast) but that doesn't excuse us for the poor defensive effort," Hannay said.
"There were some really uncharacteristic defensive mistakes — guys defended in a way that they haven't before.
"I don't think there was any particular reason — I just put it down to a bad day."
The former Queensland Maroons centre said he looked forward to bolstering his pack with Ese'ese and Ofahengaue.
"They (Broncos players) always give us a boost," Hannay said.
"No matter who it is, they're always quality players and they never let us down."
However, the news wasn't so good for another Bronco in Sam Scarlett, with the halfback not named after a side strain two weeks ago.
The match will be Souths Logan captain Phil Dennis' 200th appearance for the club, making him the first player to reach the milestone since Souths acquired Logan.
NORTHS DEVILS (13th) versus WYNNUM MANLY SEAGULLS (8th) — Sunday, 3pm at Bishop Park
COMPLACENCY will not be an issue for the Wynnum Manly Seagulls as they look to keep their finals hopes alive.
With Sunshine Coast currently sitting in sixth place and having a bye this week, a win will not put the Seagulls in the top six but a loss could all but end their semi-finals chances.
Wynnum Manly returned to form last week with a dominant win over Tweed Heads and with Norths losing to Redcliffe by 44 points last round, Jon Buchanan's side are the clear favourites for Sunday's clash.
But Buchanan said his team would be ready for a dogfight.
"Last week's result probably makes them (Norths) harder to play against this week," he said.
"We definitely won't be taking them lightly, we saw what can happen when you do that a couple of weeks ago when we lost to Mackay, so our boys will be prepared for a very tough game.
"Our finals destiny is basically in our own hands now so we just have to win our remaining games, if we don't do that, then we probably don't deserve to be there to be honest."
Source: Quest News