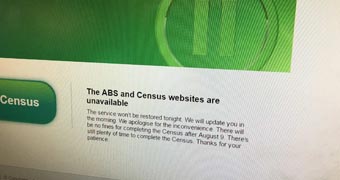 Census: Angry PM Malcolm Turnbull warns ABS of consequences over website 'failure' no fine if you do not complete it
Prime Minister Malcolm Turnbull has warned there will be "serious consequences" over the failure to prepare for the cyber attacks blamed for shutting down the census website on Tuesday night.
Key points:
"Measures that ought to have been in place … were not put in place," the PM says
Turnbull's special cyber security advisor says more attacks were expected when the site goes back online
Shorten, Xenophon call for Senate inquiry into the handling of 2016 census
Millions of Australians were prevented from taking part in the census on Tuesday night after the site was pulled down due to numerous attempted denial of service attacks, which overload a website by simulating lots of users trying to access the site at the same time.
The Australian Bureau of Statistics (ABS) is yet to bring the site back online.
Mr Turnbull said the site should be online by the end of the day but said he was angry over the failure to prepare for the attacks.
"There is time for a review and an inquiry. There are lots of people out there trying to find out who's to blame and which heads should roll and so forth," he told 2GB.
"Measures that ought to have been in place … were not put in place. That was a failure."
Mr Turnbull said there would be serious consequences for those responsible for the site, but said it would be addressed after a review into Tuesday's "predictable" events.
The PM's special cyber security advisor Alastair MacGibbon said more attacks were expected when the site goes back online.
Mr MacGibbon said there were no absolutes in cyber security, but "everything conceivably possible able to be done will be done to protect" the site.
"Every effort is being made," he said.
Both Opposition Leader Bill Shorten and crossbench senator Nick Xenophon have called for a Senate inquiry into the handling of this year's census.
Senator Xenophon told the ABC that he had spoken with Mr Shorten and had begun working on the terms of reference.
He said "heads will have to roll" if an inquiry finds that the site was simply overwhelmed by users rather than being attacked — a scenario which has been put forward by some cyber security experts.
In a statement issued on Wednesday night, the ABS said it was working with the Australian Signals Directorate and its partners, and apologised that the online form was still unavailable.
Only 2 million households were able to complete their census forms online before the site crashed.
The ABS says people have until September 23 to fill in the online census and that those unable to do so will not be given a fine.
The bungled survey, dubbed #CensusFail on social media, drew criticism from many in the privacy sector, including the former NSW deputy privacy commissioner, who said the results should be scrapped.
But the minister responsible for the census, Michael McCormack, dismissed privacy concerns and insisted the website was not "attacked", despite confirming the site was shut down after repeated denial of service attempts.
When pressed on his language, Mr McCormack said he felt that "by saying attacked, it looks as though and it seems as though and it is so that information was then gained".
Later on Wednesday, it appeared as though the minister himself had been the subject of a cyber attack, when an errant link labelled "gay sex" was spotted on his official website.
It hyperlinked to what appeared to be a Polish finance company's website.
Source: ABC News