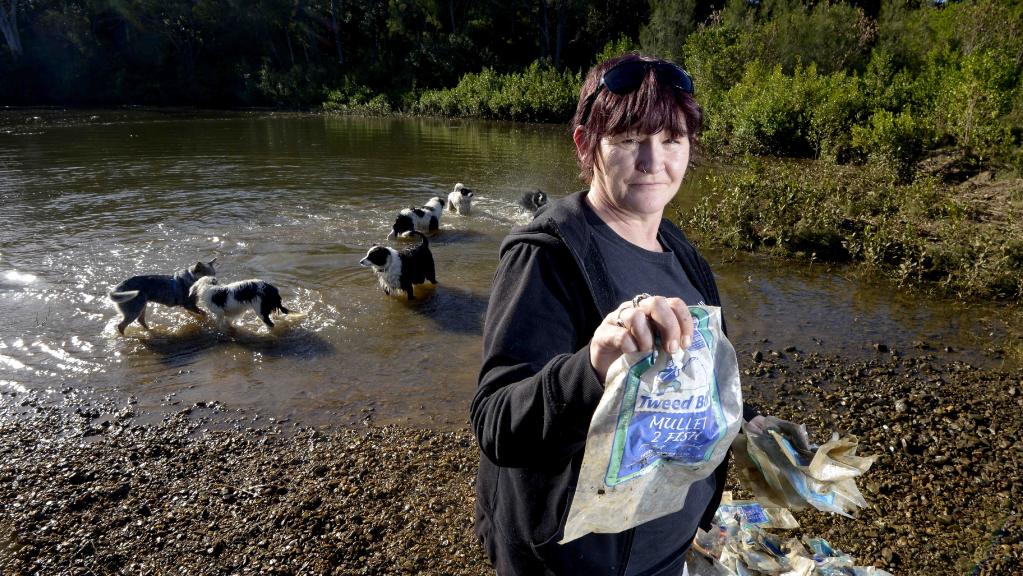 Call for strict policing of North Pine River's banks after dozens of bait bags found in water
Mary  Delaney of Strathpine wants every North Pine River angler or boater to think one discarded bait bag could kill a marine animal.
Mrs Delaney, her husband Ryan and their dogs like to enjoy the off-leash park at Petrie's Sweeney Reserve on weekends.
Their weekend relaxation is often spoiled by the sight of discarded fishing lines and empty bait bags on the riverbank near a bend in the North Pine.
They disposed of the rubbish each weekend when an idea occurred to them.
"When we noticed how much there was we started keeping the bait bags," Mrs Delaney said.
The other day she counted them and the tally was 54.
"That's from only one bend in the river and potentially the cause of death for 54 marine animals and birds," Mrs Delaney said.
"It would be great if fishermen would clean up after themselves and make sure they took their rubbish with them when they leave."
Mrs Delaney said Moreton Bay Regional Council should police and enforce its fines of up to $470 for dangerous litter.
Bev Kidby of Dohles Rocks has been volunteering at Griffin's Osprey House environmental centre for 16 years. She sees the effects of discarded rubbish.
 "We have quite dramatic photos of a seabird mistaking floating plastic for a jellyfish," Mrs Kidby said.
Three times a year Mrs Kidby and friends go by canoe to collect rubbish from Shelley Beach in Hays Inlet because the beach is only accessible by water.
"In two or three hours, we collect enough rubbish to fill a skip bin," Mrs Kidby said.
The most popular bait in Pine Rivers is Tweed Baits.
A spokeswoman for Tweed Baits said their bags carried a message to "please dispose of thoughtfully".
Pelican and Seabird Rescue is a volunteer organisation. Phone the Hotline 0404 118 301.
Source: Quest News