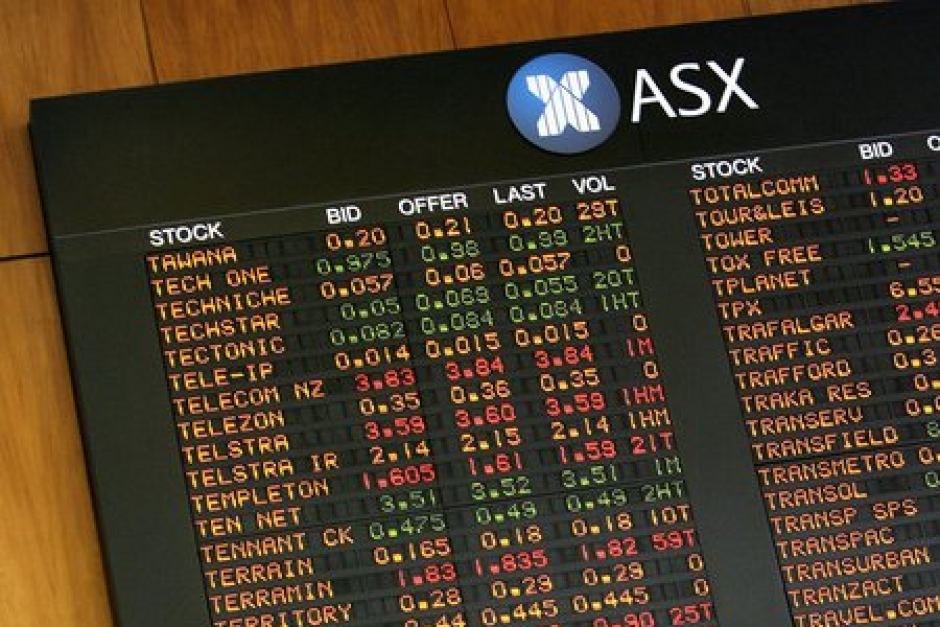 ASX: Mining share slide offsets broader market gains
Mining stocks tumbled on weaker commodity prices, overshadowing gains in most other sectors led by some large gains for companies reporting profits.
The ASX 200 index rose by 0.2 per cent to close at 5,540 and the All Ordinaries Index rose by 0.1 per cent to finish on 5,634.
Consumer stocks led the way, headed by JB Hi-Fi.
The electronics retailer reached a record high after beating analysts' expectations with an 11.5 per cent jump in full-year profit to more than $152 million.
JB Hi-Fi said the collapse of Dick Smith Electronics earlier this year helped drive stronger sales of computers and audio and visual products.
Its shares closed 9.9 per cent higher at $30.09.
Ansell fared even better, despite announcing a 15 per cent fall in full-year net profit, blaming currency fluctuations.
Investors have welcomed news that the rubber products and protective equipment maker is considering exiting its century-old condom-making business.
Ansell said it has hired investment bank Goldman Sachs to assess options for its "sexual wellness" business.
It fared the best on the ASX 200 today, up 17.7 per cent to $23.16.
Bank stocks also rose, led by the National Australia Bank, up 0.9 per cent to $27.20.
NAB reported a drop in net profit for the June quarter, to $1.6 billion, due to higher costs for bad loans and higher funding costs.
Cash profit also came in at $1.6 billion, down 3 per cent.
Elsewhere in the sector, ANZ was the weakest, but still managed a gain of 0.2 per cent to $26.61.
Mining stocks had the biggest losses, on a drop in iron ore prices.
Rio Tinto fell 3.4 per cent to $48.04.
Gold miner Newcrest dropped 4 per cent to $24.51 after posting a 12 per cent fall in full-year profit.
Shareholders will receive a dividend for the first time in more than three years.
On currency markets, the dollar is rising in European trading, after going nowhere through the day, and was buying around 76.75 US cents at 5:30pm (AEST).
Oil prices were higher, with Brent crude up more than 1.3 per cent to around $US47.50 a barrel.
Spot gold had risen to around $US1,341 an ounce.
Source: ABC News