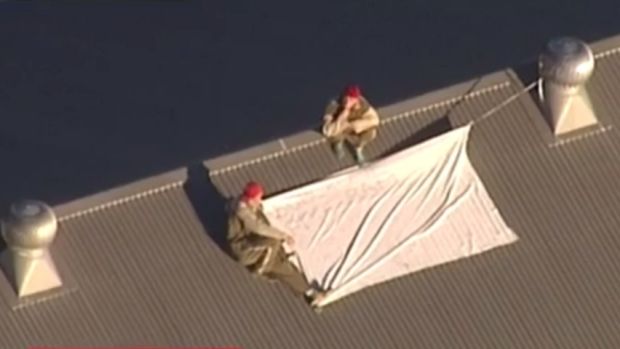 Woodford prisoners protest on roof gets national attention but no tracey grimshaw
TV presenter Tracy Grimshaw has dashed the hopes of two prisoners who'd climbed on the roof of a Queensland jail calling for the introduction of a drug addiction program.
The men, carrying a bed-sheet sign saying "Suboxone program" were reportedly also asking to speak to the well-known journalist.
But Ms Grimshaw said that wouldn't be happening.
"I would say that these guys have got on a roof and they want to make some noise and they pulled my name out of a hat because they figure it will help them make some noise," she told The Today Show.
"If that is a precondition for them getting down off the roof they should get down off the roof now because it is not going to happen.
"I certainly have had no contact from any of the authorities and, you know, I have been a journalist for a long, long time and I have covered these sorts of stories and the last thing negotiators give people who climb on roofs and demand things is what they're demanding."
Earlier Two prisoners have spent almost a full day on the roof of a Queensland jail in a protest reportedly calling for access to both a drug addiction program and Tracy Grimshaw.
Footage shot from the Nine News helicopter showed the men camped on the roof of the Woodford Correctional Centre, north of Brisbane, with a bed-sheet sign reading "Suboxone program".
The drug is marketed as a tool to combat dependence on opioid drugs such as heroin and heavy painkillers.
Nine News reported the prisoners were also demanding to speak with Tracy Grimshaw, the host of the network's A Current Affair program.
The prisoners climbed the roof of the high-security facility about 9am Tuesday after using toenail scissors to cut through a chain fence, News Corp reported.
Source: Brisbane Times