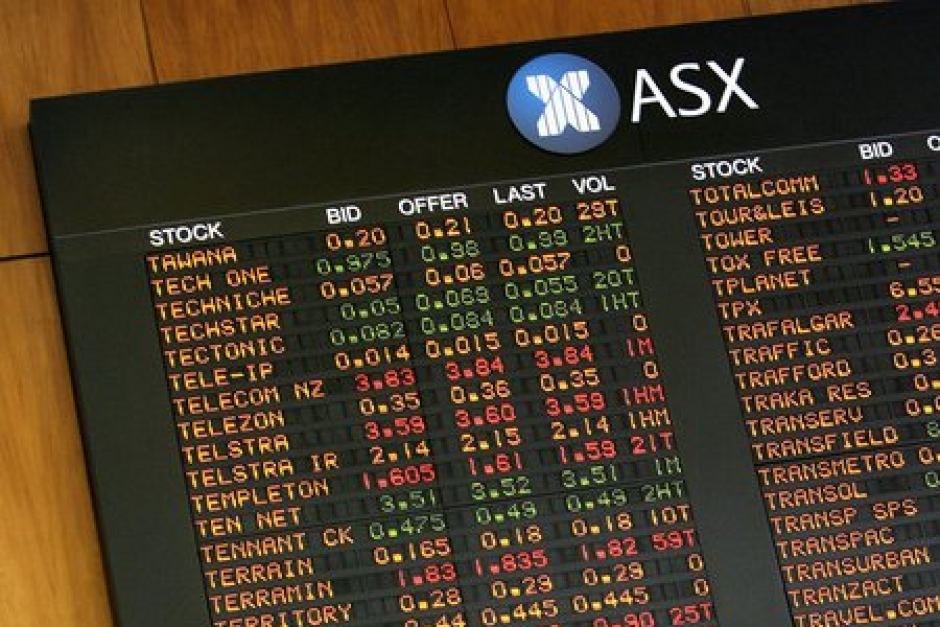 Stock Market close: Australian shares follow Wall Street lower, but post healthy gain for week
The Australian share market has ended broadly lower thanks to falls on Wall Street and a lower oil price, but the ASX has still made healthy gains for the week.
Markets at 5:19pm (AEST)
ASX -0.3 pc to 5,498, All Ords -0.3 pc to 5,574
Biggest gains: St Barbara +6 pc to $3.18, Regis Resources +5.9 pc to $3.75, Whitehaven Coal +3.6 pc to $1.74
Biggest losses: Asaleo Care -29.7 pc to $1.51, GWA Group -5.2 pc to $2.02, Metcash -3.8 pc to $2.04
Futures: Euro STOXX 600 -0.3 pc to 338.3, FTSE -0.4 pc to 6,632, S&P 500 +0.1 pc to 2,160
AUD: 74.6 US cents, 56.4 British pence, 79.1 Japanese yen, 67.7 euro cents, $NZ1.067
Investors appear to be waiting for next week's inflation numbers — which should give clues to the Reserve Bank's call on interest rates at their next meeting in August.
The ASX 200 jumped 1.3 per cent for the week, its second consecutive week of gains.
The European Central Bank decided to keep official rates on hold overnight at 0 per cent, while also hinting at future stimulus.
Among banks, National Australia Bank announced a management restructure including the departure of three of its top executives.
NAB stocks lost 0.7 per cent to $26.06. Westpac and ANZ were also lower, but the Commonwealth Bank gained 0.1 per cent to $77.14.
Meanwhile, oil and gas company Santos has announced record half-year production — but prices have dropped by a third over the same period. Shares tumbled 1.4 per cent to $4.83.
Woodside Petroleum also suffered from the weaker oil price, dumping 1.1 per cent to $27.30, but Caltex bucked the trend to add 0.5 per cent.
In commodities trade, gold lifted to $US1,327 an ounce and West Texas Crude oil fell to $US43.86 a barrel.
Iron ore was stronger at $US56.10 a tonne.
Source: ABC News