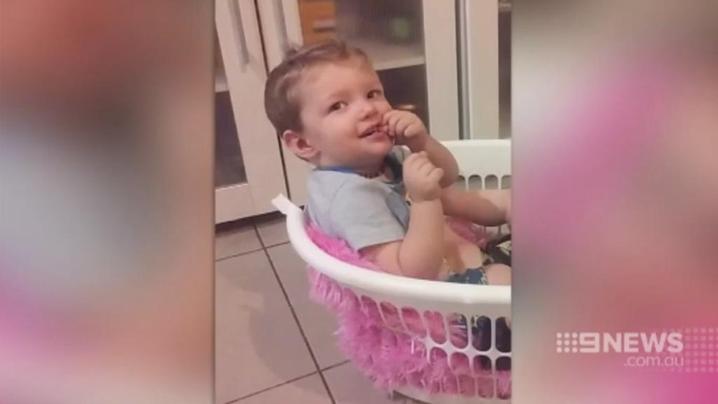 Queensland government launches review into death of Caboolture toddler Mason Lee amid claims of a 'broken system'
Queensland's opposition says a Caboolture toddler who died after suffering traumatic injuries should not have been returned to his family.
Mason Jet Lee was found dead on June 11 after suffering severe traumatic injuries which doctors believed were inflicted over a long period.
The 21-month-old had been admitted to hospital in the months before he died.Doctors reported the risk to the child safety department and fully discharged him. 
The state's opposition has described the state as the "worst" in the nation when investigating child abuse.
Shadow Child Safety Minister Ros Bates said Mason's death was due to "a broken system".
Addressing media this morning alongside Opposition Leader Tim Nicholls, Ms Bates said the child safety system was in "crisis".
Ms Bates has called on the Palaszczuk government to "explain to Queenslanders what her department did, what they knew and what they're going to do to make sure what happened to Mason never happens again".
"There is another Mason out there," Ms Bates said.
Mr Nicholls said the government had put "no new staff" onto the child safety protection area in the latest budget.
The comments come after The Courier Mail reported the boy had suffered other horrific injuries at home prior to his death, and had been sent home by child safety officers despite a broken leg and a ruptured bowel in March.
The news outlet reports the Department of Child Safety were notified on his initial injuries, but an investigation was stalled after a backlog of enquiries.
Health Minister Cameron Dick said initial investigations showed the clinicians who saw Mason did "what they needed to do".
"Let's look at all parts of the system to see what has occurred and what we can do to learn from this," Mr Dick said.
Mr Nicholls said the government had been warned in October that the department was "breaking at the seams".
"It seems to be a system in crisis, breaking at the seams," he said.
A police homicide investigation into Mason's death continues.
Source: Nine News