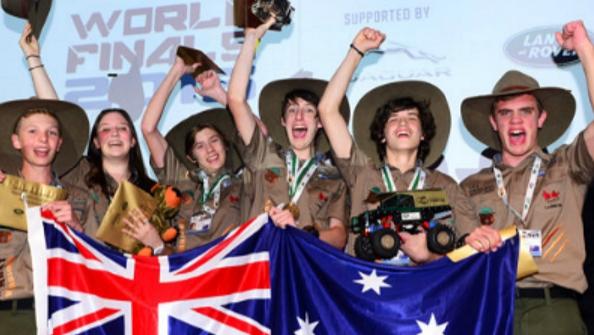 Pine Rivers High School team, the Wombat Warriors, win 4x4 world crown in England
The Pine Rivers Wombat Warriors have conquered the world.
Pine Rivers State High School's student team, named the Wombat Warriors, has won the 4X4 Schools Technology Challenge world title.
The Warriors - Lily Eiseman, Grayson Lamprecht, Marcus Solman, Taj Gieskens, Lucus Stephens and Kienan Wagner - were crowned on Tuesday night (Wednesday morning in Brisbane) in Coventry, England.
It capped an extraordinary double after three Pine Rivers High students were in the A1 Racing team which took out the 2013 F1 in Schools World Titles in Austin, Texas.
Former Pine Rivers High student Beau Gieskens was in A1Racing and his brother Taj Gieskens is in Wombat Warriors.
Their father, Pine Rivers High teacher Corey Gieskens, managed both world title-winning bids.
The overwhelmed Warriors posted on their Facebook page: "This just happened tonight.... so amazing, so thankful. We ARE World Champions!"
The five students spent months designing and building miniature remote controlled 4x4 vehicles to negotiate an extreme off road course in the quickest time.
At the same time, they prepared an engineering portfolio and verbal presentation which were judged by engineers and academics.
Source: Quest News