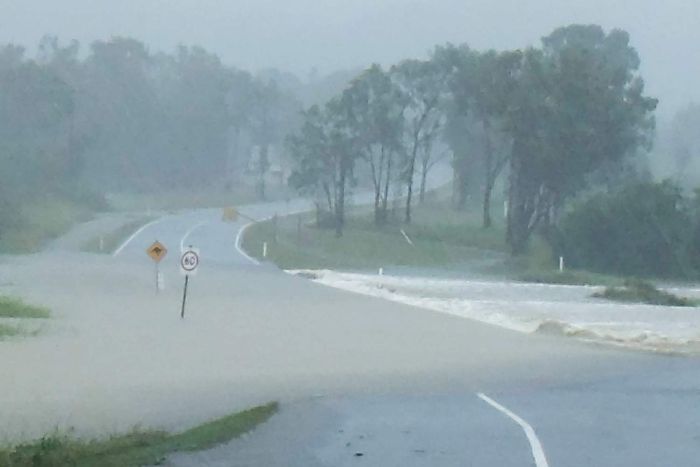 Moreton Bay Region dodges latest rain dumping
Less the 15 mm dropped in the Moreton Bay Region as the Bureau Of Meteorology's  Forecaster Sam Campbell said the rain that affected the region yesterday was associated with the system.
"We didn't see too much around the Moreton Bay Region and Brisbane area, generally falls of less than 15mm," he said
The Queensland Fire and Emergency Service praised the communities of central and north Queensland for staying safe during the weather event with many people chosing not to drive during the heavy rain.
"If it's flooded, forget it, is a really important message, we need to keep pushing it,"
"Obviously people are starting to listen to it.
Meanwhile the severe weather system that dumped more than 450 millimetres of rain on central Queensland has moved off the coast and is tracking north west, the Bureau of Meteorology says.
"It was all associated with a major upper level disturbance that's sitting over the interior of the state and a surface trough that developed over the coastal waters," he said.
"Over the last 48 hours, Yeppoon has had in excess of 350mm and some locations in that area have seen in excess of 450mm."
Mr Campbell said the system created unseasonal rain, showers and storms.
Modelling suggests the rain will ease along the coast today, but showers are expected from Bowen to Hervey Bay.
"The focus shifts to the northern interior for Monday and Tuesday with the possibility of severe storms and further heavy falls," Mr Campbell said.
"Locations like Georgetown, Charters Towers, Richmond, Cloncurry and Winton could all be in line for some severe storms and some locally heavy falls.
"For Tuesday, the focus will remain over that northern interior, possibly extending as far south as Longreach where again we could see some locally heavy falls with storms."
Mr Campbell said the major upper level disturbance was currently over the interior.
"It will track towards the north west during today and remain slow moving in the north-west of the state on Monday and Tuesday," he said.
"During Wednesday it does shift offshore into the Coral Sea.