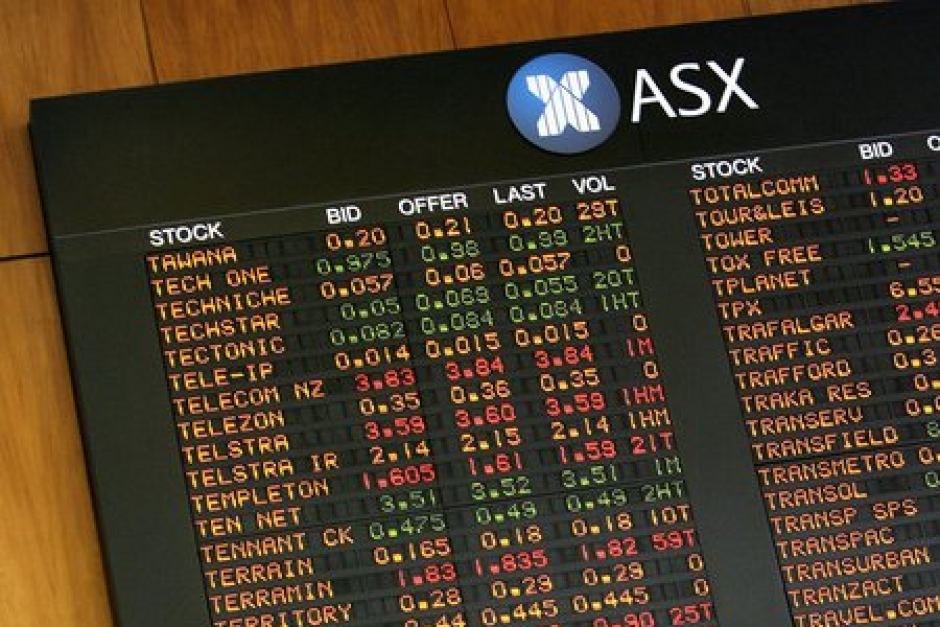 Markets close: Australian shares end higher for sixth session
The share market has closed higher for a sixth straight session as investors welcomed some positive jobs numbers in Australia and bet the Bank of England would cut interest rates tonight.
Markets at 5.34pm (AEST)
ASX 200 +0.4 pc to 5,412, All Ordinaries +0.4 pc to 5,492
Major gains: Bluescope Steel +7.2 pc to $7.85, Billabong +5.4 pc to $1.46, Fairfax +2.7 pc to $0.95
Major losses: Orica -4.4 pc to $12.83, Newcrest Mining -3.4 pc to $25.30, Seven Group -3.3 pc to $6.25
Euro STOXX 600 futures +0.7 pc to 337, S&P 500 futures flat at 2,146, FTSE +0.4 pc to 6,670
AUD: 76.2 US cents, 57.7 British pence, 80.3 Japanese yen, 68.7 euro cents, $NZ1.055
The Bank of England is widely expected to cut its official interest rate by 25 basis points to 0.25 per cent.
Governor Mark Carney has hinted the bank would take such a move to prevent a recession in the wake of the Brexit vote.
Stocks rose on most Asian markets on expectation of a cut.
Healthcare stocks led the way with Sigma Pharmaceutical adding 4.9 per cent to $1.30, while telcos were also in favour with Telstra adding 1.2 per cent to $5.75.
Among banks, the big four banks continued their run of gains — NAB fared the best, up 1.3 per cent to $25.67.
In the consumer sector, Treasury Wine Estates jumped 3.8 to $9.57 per cent after an analyst boosted its target price for the world's biggest standalone winemaker.
Resources stocks bucked the trend though, losing steam after a recent big run up.
The fertiliser and chemical maker Incitec Pivot had the biggest loss on the ASX 200 after two investment banks cut their ratings for the stock, closing down 9 per cent to $2.85.
Energy stocks were also sold, after a big overnight fall in oil prices on concerns about an oversupply of crude.
Whitehaven Coal lost 3 per cent to $1.48.
In economic news, new figures from the Bureau of Statistics show the unemployment rate rose to a seasonally adjusted 5.8 per cent in June.
An estimated 7,900 jobs was created, driven by a big jump in full-time work, reversing a recent trend of strong growth in part-time jobs.
In commodities trade, oil prices were higher after dropping overnight; Brent crude was up more than 1 per cent to about $US46.77 a barrel.
Spot gold was nearly 1 per cent lower at about $US1,332 an ounce.
Source: ABC News