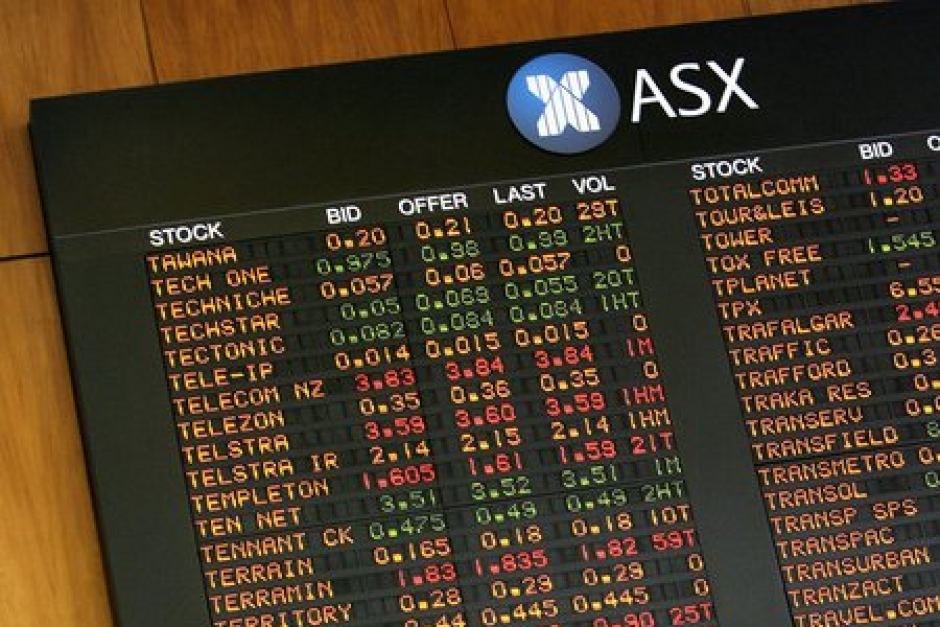 Market close: Australian shares inch to fresh 11-month highs, adding 1.2 pc for week
Australian shares have inched to fresh 11-month highs, adding 1.2 per cent for the week, in the market's third consecutive week of gains.
Markets at 5:05 pm (AEST)
ASX 200 +0.1 pc to 5,562, All Ords +0.1 pc to 5,644
Major gains: Resmed +6.9 pc to $9.20, Graincorp +4.7 pc to $8.48, Fairfax +2.9 pc to $1.05
Major losses: Fortescue -4.1 pc to $4.43, Origin -3.2 pc to $5.50, BHP Billiton -2.3 pc to $19.52
Futures: Euro STOXX 600 +0.2 pc to 339.4, FTSE -0.2 pc to 6,671, S&P 500 -0.2 pc to 2,160
AUD: 75.1 US cents, 56.9 British pence, 77.5 Japanese yen, 67.7 euro cents, $NZ1.059
The market was lifted by major banks, with Westpac banking Corp leading gains, up 0.9 per cent, while National Australia Bank rose 0.6 per cent.
Health care stocks also climbed higher, with Resmed jumping 6.9 per cent to $9.20 its highest point since April 2015 after investors cheered its fourth quarter results, while bionic ear-maker Cochlear jumped 1.8 per cent.
Miners dragged on the broader market, with BHP Billiton tumbling 2.3 per cent, while Rio Tinto lost 2.1 per cent. Gold miners bucked the trend, with Newcrest Mining gaining 1.1 per cent.
Meanwhile in company news, Woolworths has dumped Australia's biggest milk processor, Murray Goulburn, in favour of Bega Cheese, to supply many of the supermarket's private label dairy products.
Murray Goulburn said losing the bulk of the contract will cost it more than $100 million a year.
Shares in the company tumbled 8.4 per cent to near one-month lows of $1.15, but Bega shares soared 6.9 per cent.
Meanwhile the Bank of Japan surprised global markets again today, by failing to increase its economic stimulus measures.
In commodities trade, gold is weaker at $US1,333 an ounce, West Texas crude oil has also lost ground to $US41.08 a barrel, while iron ore is stronger at $US59.20 a tonne.
Source: ABC News