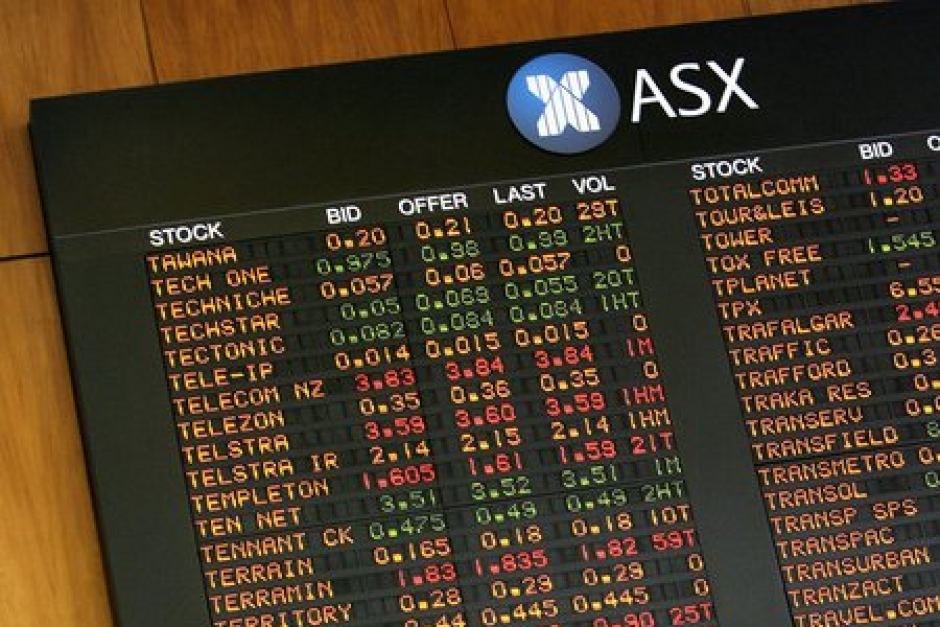 Market close: Australian shares end flat as investors eye US Fed
The local share market has finished flat ahead of the US Federal Reserve's call on interest rates due later in the global day, while inflation data released came in weak as expected.
Markets at 5:31pm (AEST)
ASX 200 flat at 5,540, All Ords flat at 5,615
Major gains: BHP +3.1 pc to $19.86, Fortescue +7 pc to $4.41, Alumina +3.9 pc to $1.35
Major losses: SAI Global -5.3 pc to $3.55, Asaleo -5.8 pc to $1.39, GrainCorp -5.7 pc to $8.15
Futures: Euro STOXX 600 +0.4 pc to 341.7, FTSE +0.2 pc to 6,689, S&P 500 +0.2 pc to 2,168
AUD: 74.8 US cents, 57 British pence, 79 Japanese yen, 68 euro cents, $NZ1.063
Key inflation figures from the Australian Bureau of Statistics came in at their weakest in 17 years, with annual inflation at just 1 per cent.
But an interest rate cut in August is still on the cards, although some stronger-than-expected "core" inflation data cut market odds to roughly 50-50.
Retailers were not impressed with the results, and stocks had a mixed session.
Wesfarmers slipped 0.2 per cent $42.50, while Woolworths dipped 0.3 per cent to $23.42.
Graincorp tumbled 5.7 per cent to two-month lows of $8.15 after its largest shareholder Archer Daniels Midland failed to find a buyer to sell its 20 per cent stake according to Reuters.
Miners helped buoy the market, as Fortescue's shares soared 7 per cent to $4.41 after investors cheered its quarterly production results.
The miner said it has cut costs, paid off debt, and increased production at the same time the price of iron ore has recovered.
Other miners were also stronger, BHP jumped 3.1 per cent, while Rio Tinto climbed 1.9 per cent. Gold miner Newcrest Mining gained 3.1 per cent.
Meanwhile, the High Court has dismissed a class action by thousands of ANZ customers, challenging the bank's fees on late credit card payments. ANZ inched 0.1 per cent higher to $25.69.
Source: ABC News