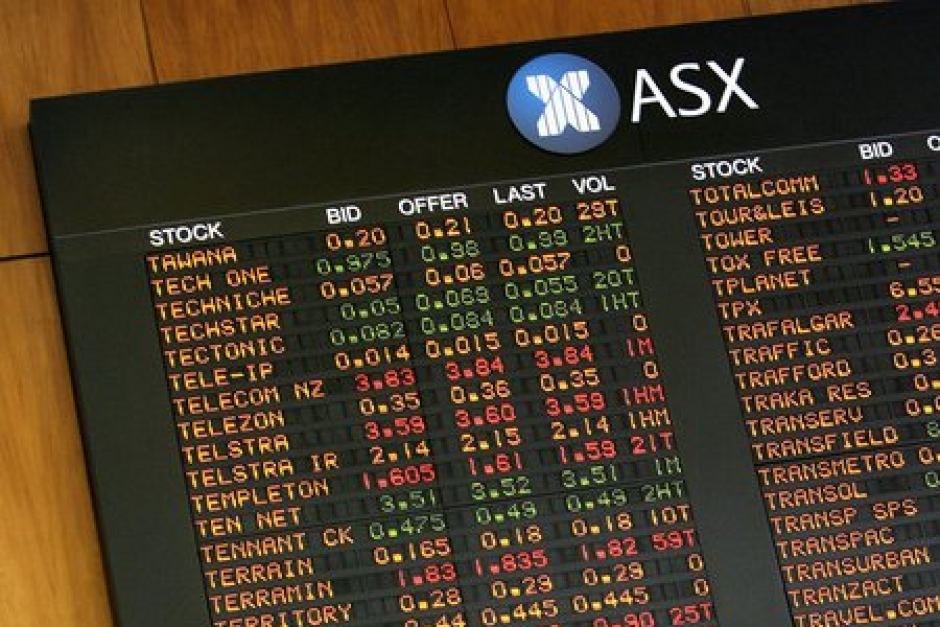 Market close: Australian shares climb towards one-year high on interest rate cut hopes
The share market has continued its climb towards a one-year high on hopes of an interest rate cut next week and higher commodity prices.
Markets at 5:30pm (AEST)
ASX 200 +0.3 pc to 5,557, All Ords +0.4 pc to 5,637
Major gains: St Barbara +7 pc to $3.05, Fortescue Metals +4.8 pc to $4.62, Covermore +4.6 pc to $1.36
Major losses: Santos -2.2 pc to $4.46, Origin Energy -2.2 pc to $5.68, Spotless -2.1 pc to $1.20
Futures: Euro STOXX 600 -0.3 pc to 340.2, FTSE -0.2 pc to 6,682, S&P 500 +0.3 pc to 2,167
AUD: 75.4 US cents, 57.1 British pence, 78.9 Japanese yen, 67.9 euro cents, $NZ1.06
Mining stocks led the way, with gold miners rallying after the precious metal rose as traders digested the outcome of the US Federal Reserve's latest policy meeting.
The US Fed appeared more upbeat on the US economic outlook, saying short term risks had diminished, but markets seemed to be betting the Fed is unlikely to raise rates in September, sending the gold price higher.
Gold miner St Barbara fared the best, jumping 7 per cent to $3.05, while Newcrest Mining added 4.9 per cent to $24.74.
Elsewhere in the mining sector, Fortescue Metals jumped by 4.8 per cent to $4.62 after yesterday's solid quarterly production report, while a rise in iron ore prices added to the positive momentum.
BHP Billiton closed 0.6 per cent higher at $19.97 after saying it is setting aside up to $US1.3 billion more in extra funding to cover the costs of last year's fatal dam disaster at its Samarco iron ore joint-venture in Brazil.
Among telecommunications stocks Telstra managed to gain 0.2 per cent to $5.74, reversing its early losses.
The ratings agency Moody's has warned Telstra will struggle to fill a $2 billion to $3 billion earnings gap once the rollout of the National Broadband Network (NBN) winds up.
Among banks, ANZ fared the best, up 0.3 per cent to $25.77, while Westpac fared the worst, down by 0.4 per cent to $30.81.
Macquarie Group jumped 1.4 per cent to $74.80 after announcing it expected profits for the 12 months to March next year would broadly match its most recent record annual profit.
In commodities trade, oil prices have recovered some ground after tumbling to a three month low overnight.
Brent crude is buying around $US43.42 a barrel, while spot gold is flat after its overnight gains, and is fetching around $US1,340 an ounce.
Source: ABC News