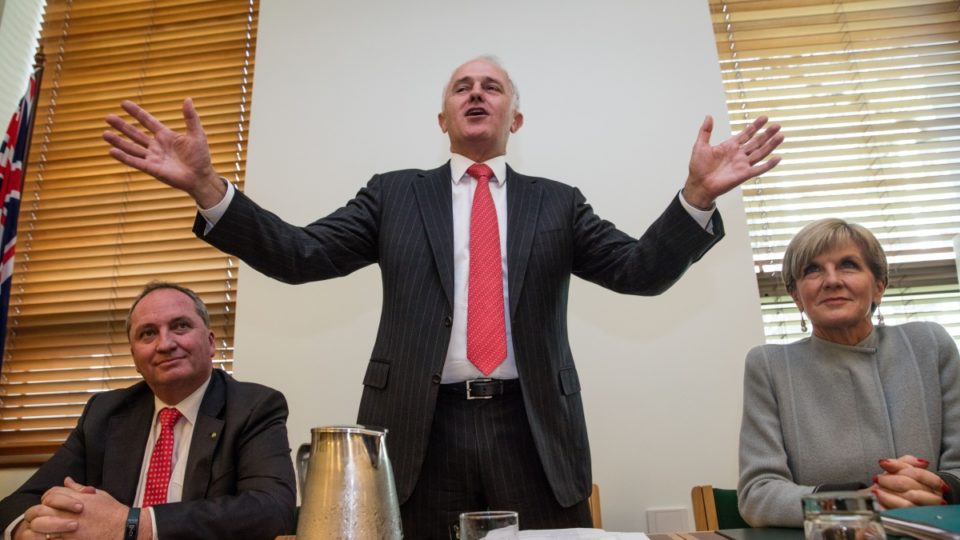 Malcolm Turnbull takes greater control with ministerial staff restructure
A dramatic restructure of ministerial staff is underway inside the federal government as Prime Minister Malcolm Turnbull moves to seize greater control of the people he has around him.
Chiefs of staff and other senior advisers have joined a number of ministers who have gone following disappointing election results which blindsided many in the Coalition.
And in what some insiders are describing as "Turnbull's own star chamber", the Prime Minister has assigned senior advisers from his office to help coordinate, approve and veto post-election staffing appointments across the ministry.
Former prime minister Tony Abbott and his chief of staff Peta Credlin ran a so-called 'star chamber' while in office that vetted government staff, making numerous controversial decisions that were a factor in Mr Abbott's demise.
In the current shake-up, Attorney-General George Brandis, Finance Minister Mathias Cormann, Health Minister Sussan Ley and others are losing their chiefs of staff, with acting appointments already in some of those offices.
One party operative described it as a "mass exodus" from some ministers' offices, with not only chiefs of staff, but also other senior advisers either leaving of their own accord or being forced out.
"The election didn't shape up the way Malcolm or the party wanted, so now he's moving to shore up support around him," said a source who preferred to remain anonymous.
"Despite what spin might be put on this, this is Turnbull's own star chamber in operation. That style of leadership didn't work out too well for Abbott."
A Liberal Party source tells The New Daily
Another government source described it as "not quite a star chamber, but getting close".
The Prime Minister's Office (PMO) confirmed to The New Daily that a significant restructure of staffing was underway and that a committee was coordinating appointments.
"A little bit more rigour" was being applied to staffing appointments, an adviser said.
But according to the PMO, the move is not going down the path of controversial appointments that were a feature of the Abbott government, but rather a return to a process that is a "bit more normal" – meaning ministers won't have all the say over who they employ.
In Ms Ley's office, Craig Bosworth has been replaced as chief of staff by Lisa Studdert from the Health Department.
Dr Studdert, who also advised Michael Wooldridge when he was health minister in the Howard government, will act in the role until at least the end of the year.
Minister for Women Michaelia Cash, Social Services Minister Christian Porter and Industry Minister Greg Hunt are among others to lose senior staff.
While some are leaving government ranks completely, others are being reassigned to different ministerial offices.
Defence Industry Minister Christopher Pyne appears to be the beneficiary of some of these moves, including a new role of special adviser being created within his office.
That new position will be filled by one of the Prime Minister's own media advisers, former Channel 10 journalist Matt Moran.
Also from the PM's own staff, highly regarded communications director David Bold moves into a new advisory role in the PMO as a special liaison with the new-look crossbench.
But few staff across the ministry have had their employment confirmed, leaving many nervous until they learn their status.
That was expected to happen this week for most ministerial staff, but the PMO and other ministerial offices have been distracted with the sudden calling of a royal commission into Northern Territory juvenile detention.
Source: TND