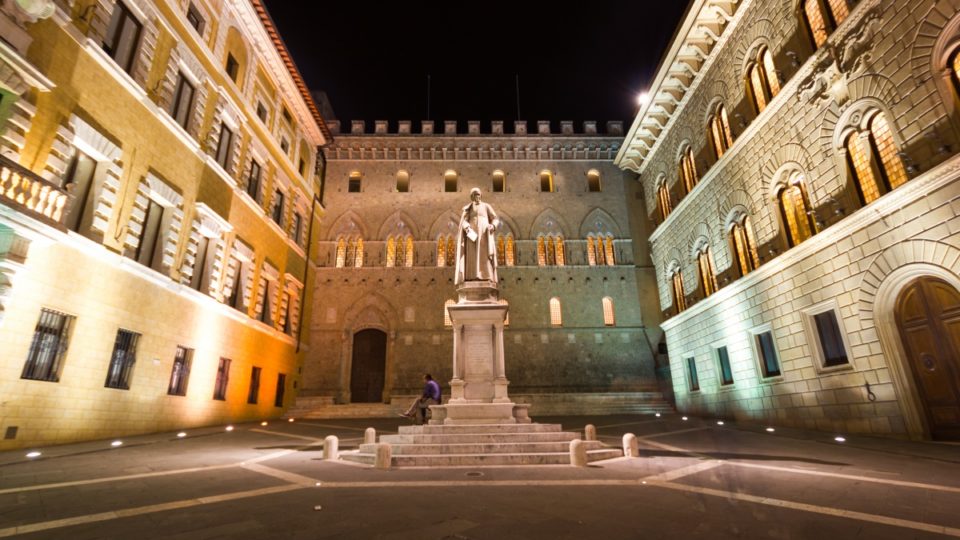 Italy's 'zombie banks' could trigger the next Euro crisis
Investors are braced for another bout of turbulence on global markets ahead of the release of special reports on the financial health of Italy's ailing banking sector.
On Friday evening (AEST), the European Banking Authority will publish the findings of its financial stress-testing of 50 banks in the European Union, including Italy's five largest banks that account for more than 80 per cent of lending in the country.
The results are almost certain to confirm that one or more of Italy's leading banks are on the brink of collapse, and could trigger another bailout crisis for the European Union.
Italy's economy is barely recovering from a five-year depression that has put more than one-third of young adults on the dole, and severely stretched households and small businesses to meet loan repayments.
The depth of the crisis in Italy is represented on the balance sheets of the country's big banks, which are collectively sitting on €360 billion ($A529 billion) of loan assets that borrowers have stopped repaying.
Most bank analysts are now coming to terms with the fact that the great bulk of these loans will never be repaid because the borrowers, in most cases, have been declared insolvent.
The world's oldest bank may now be a 'zombie'
At the centre of Italy's banking crisis is the world's oldest surviving bank – Banca Monte dei Paschi di Siena (BMPS).
Some investors are now suggesting that BMPS may be Europe's next 'zombie bank'.
This term "zombie' is used to describe a bank which in economic terms is worthless but continues to trade because it has an implicit government guarantee.
Founded in 1472, BMPS is Italy's third-largest commercial bank with alleged assets of €160 billion.
It is a cornerstone of the Italian banking system and is recognised by European regulators as "a systemically important" institution.
Like most other Italian banks, shares of BMPS have been pummelled this year as it became increasingly clear that it would be forced by regulators to write off billions worth of loans.
For many years, BMPS and other Italian banks have not written off loans made to insolvent borrowers because it would have required them to raise more capital to satisfy regulators.
Banks raise capital by selling assets or issuing more shares to investors.
However, this is now problematic for even longstanding companies such as BMPS because demand for Italian banking-related assets and shares has dried up.
Why Friday is important
When it last released a balance sheet, BMPS reported that around €46 billion of its loans were non-performing.
This means that more than one quarter of all of its loans were not being repaid by borrowers.
In June, the European Central Bank warned BMPS that its trading position would become untenable unless it moved swiftly to move bad loans from its balance sheet.
In recent weeks, demand from other banks and investors for troubled loan portfolios has withered and BMPS's share price has tanked.
The bank is now in big trouble and desperately needs to find more cash to maintain the confidence of European regulators.
Most of the financial world knows it can't raise money using the orthodox methods of stable banks.
So, it's now crunch time – for Italian and European taxpayers.
Publication of the regulatory stress-testing of BMPS and other troubled Italian banks should reveal whether Europe has another bailout emergency to deal with.
Source: TND