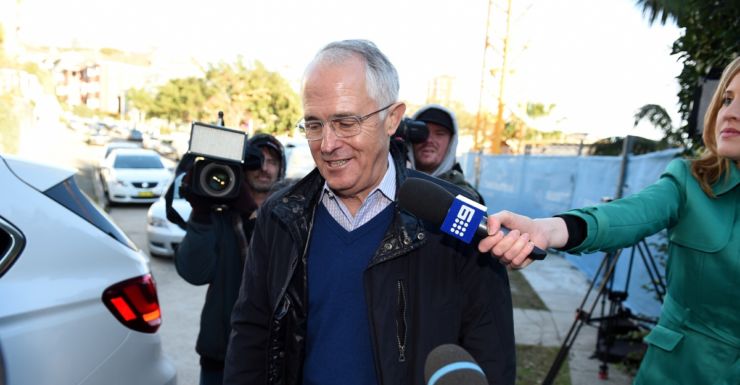 Federal Election 2016: Malcolm Turnbull's exit jump before push?
The Prime Minister is weighing up his political future after a disappointing election.
Caretaker Prime Minister Malcolm Turnbull is now contemplating his exit from federal politics.
With vote counting resuming on Tuesday, Mr Turnbull's first and only task is to demonstrate to Governor-General Sir Peter Cosgrove that he has a certified 76 House of Representatives seats to justify a renewed prime ministerial commission under the Australian constitution.
A Liberal Party senior source has told The New Daily that with postal votes expected to favour incumbent Liberal MPs in at least half the remaining doubtful seats, Mr Turnbull had been advised he could still form a majority government.
"We hope it's more, of course, which would get us to 75 seats or over," the source said.
Alternatively, Labor leader Bill Shorten said on Monday he believes he still has an outside chance of forming a majority government if the final counting breaks Labor's way.
On Monday ABC psephologist Antony Green had the Coalition at 68 firm seats, 67 for Labor, and five independents with 10 still in doubt.
On Monday evening, before counting resumed, the Liberal Party was assessed by Mr Green to be ahead in only four seats: Chisholm, Dunkley, Gilmore, and Petrie.
The ALP was ahead in five: Capricornia, Cowan, Forde, Herbert and Hindmarsh. The Nick Xenophon Team was ahead in Grey.
If these trends continue to the completion of the count, the Coalition would emerge with 72 seats and the ALP 72 seats with six "others": a hung parliament with a dead heat between the major parties.
Mr Turnbull and Mr Shorten would then have to enter competitive negotiations with the six cross benchers to produce demonstrable support to take to the Governor-General.
Party unity under threat
"This is the greatest test for our party," the Liberal source told The New Daily.
Managing the political and leadership crisis resulting from the collapse of its House of Representatives majority should trigger unity in the face of historic adversity, the source said.
But with bitter recriminations now publicly directed at Mr Turnbull and the MPs who assisted him to destroy the prime ministership of Tony Abbott last September, such unity and discipline appeared impossible to secure.
On Monday Mr Turnbull telephoned the Liberal MPs who lost their seats to commiserate and to thank them for their service.
This was seen as necessary to correct a major misjudgement he made in delivering a resentful and angry speech at 12.30am on Sunday after the indecisive election night.
Mr Turnbull will consider his future when executive government has been determined by the Governor-General.
If he secures the G-G's commission he must then consider his options: continue as PM to manage the government through the crisis, resign to allow the Liberal Party to renew itself under a new leader, or wait to see if his leadership is challenged.
If he is not re-commissioned to form government, Mr Turnbull is expected to resign the Liberal Party leadership immediately and accept the humiliation which would come with one of the nation's shortest terms, 10 months, as Prime Minister.
Significantly, experienced Canberra observers are not writing off Tony Abbott to return to the front bench — or the leadership.
Mr Turnbull's 'co-conspirators' in the Abbott coup – Senator Arthur Sinodinis, Treasurer Scott Morrison, Attorney General George Brandis and Foreign Minister Julie Bishop – have been politically discredited through the party's electoral failure, and are unlikely to be forgiven for having destabilised the first term government.
 Bill Shorten puts the boot in
Mr Shorten put the boot in to Malcolm Turnbull on Monday while visiting western Sydney seats regained by Labor at the election.
"This is farcical. Mr Turnbull obviously doesn't know what he is doing," he said.
"Quite frankly I think he should quit. The bloke is not up to the job."
Mr Shorten said Mr Turnbull had "Brexited himself", referring to the consequences of British PM David Cameron calling for a referendum on the United Kingdom remaining in the European Union.
He said Mr Turnbull no longer had authority within his own party.
Pauline Hanson inflames racial hatred
In a major challenge for national cohesion Pauline Hanson's One Nation Party appears likely to take two seats under the lower vote quota required under a double dissolution.
Ms Hanson is seeking a royal commission into "corrupt" climate science and Islam, and wants to ban the burqa.
At a news conference on Monday, she challenged journalists to question Muslim imams who she said were preaching their own hatred "against us".
She said no more mosques should be approved in Australia and, although the resident Muslim community could not be expelled, there should be a cessation of migration.
While Ms Hanson and any of her party's senators are expected to be politically isolated in the next parliament, the media coverage of their racist pronouncements is considered by counter terrorism analysts to be likely to add to the risks facing national security.
Alienation of the muslim community from mainstream Australia is considered dangerous in terms of jihadi recruitment among young muslim Australians.
When Ms Hanson was last in parliament and railing against Asian immigration 18 years ago, the jihadi recruitment phenomenon was not a security risk factor.
Source: TND