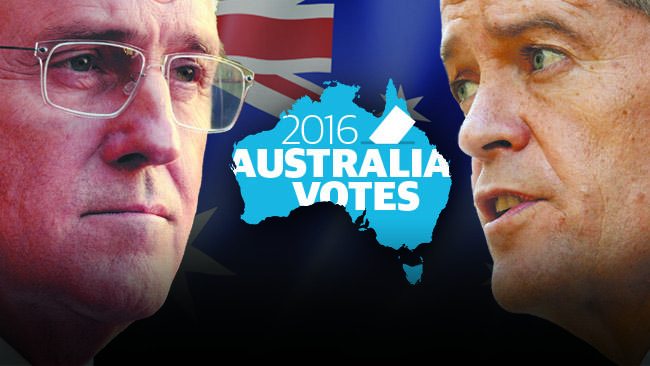 Federal Election 2016: Just before its all over
The federal election result is not expected to be known tonight.
Our election analyst 
Antony Green
says the projected modelling has the government on 75 seats, which is just shy of a majority.
The seat count so far
Coalition: 69
Labor: 69
Greens: 1 
Independent: 4
Not determined: 7 
TWO-PARTY PREFERRED VOTE (7 million votes counted) 
Coalition: 49.3pc 
Labor: 50.7pc 3.3 pc swing against the coalition. 
STATE SWINGS AGAINST THE GOVERNMENT 
NSW 3.2pc, Victoria 1.4pc, Queensland 2.4pc, Tasmania 8.7pc
Source: Australian Electoral Commission.
Libs 'lose seat of Bass': report 
Liberal MP Andrew Nickolic has reportedly lost the Tasmanian seat of Bass to Labor, according to Sky News. Twenty per cent of the vote has been counted so far. 
Libs retain marginal seat of Corangamite
Adam Brandt says the Greens are confident they're in with a shot in the Melbourne seat of Batman
Exit polls how Coalition and Labor still neck and neck 
Counting in the federal election is under way, with voting booths closed in all states and territories except for Western Australia.
Polling booths closed across the eastern states at 6pm and South Australia and the Northern Territory half an hour later. However, people in the queues at the time are allowed to cast their ballots, the Australian Electoral Commission said. Exit polls are showing the Coalition and Labor are still neck and neck. After preferences, Nine's Galaxy poll has both sides at 50-50, while the 7ReachTEL poll has the coalition ahead 51-49.Sky's exit poll shows most voters expect the coalition to win. Voting will end in WA at 8pm (AEST). 
Peta Credlin says she predicts the coalition will lose about 8 seats in the federal election
Breaking: An exclusive Sky News Exit Poll shows 63% of people are tipping the Coalition to win the election
Exclusive Sky News Exit Poll shows 72% of voters deem health and Medicare as very important
Too close to call: Galaxy poll 
A Galaxy Research exit poll of 25 marginals seats, conducted for the Nine Network, shows the election is too close to call. The poll shows there's a swing to Labor of 3.4 per cent, which would give them 68 seats - short of the 76 needed to form a majority government. Across the marginals, the Coalition is polling around 43 per cent, Labor 36 per cent, with the Greens on nine per cent.
Social media can give us an idea of what's going on around Oz today
According to Facebook data, Bill Shorten has overtaken Malcolm Turnbull as the most discussed leader on the social network today. Third place is Pauline Hanson.
The most common word pairs are marriage equality and double dissolution, while health and things related to sausages are strong themes.
Odd Spot in Twitter:
Overheard at a polling booth - "apparently State and Federal Elections are different". Oh dear
Overheard at poll booth: "which is the party that supports nature, is it the Greens?
What's the difference between Liberal Democrat and Liberal National?
Overheard in the polling booths: "You can only number up to 6. Maximum 6". No, no! Minimum 6. Another invalid ballot paper created
Overheard at polling booth: "you shouldn't have to wait half an hour to vote ... you should pay me to vote"
My dream is to one day be rich enough that I WANT to vote Liberal" - overheard
"I don't think I'll have a sausage"
 "Will you still be allowed to vote?
does the queen have to vote?
Top Twitter:
1 Healthcare 2 economy 3 education 4 housing 5 affordability 6 NBN 7 Immigration 8 Marriage Equality 9 superannuation 10 jobs 11 tax the most discussed on twitter
Twitter Leaders mentioned Malcolm turnbull 59% Bill Shorten 33% Richard Di Natale 8% Today
Twitter Partys mentioned Liberal 33% Labor 45% Greens 22%  how to eat has contributed to thus reflecting labors gain Today
Shorten dominates Facebook 
It may be because of his unorthodox sausage eating but regardless the Opposition Leader is receiving the most attention on Facebook.
The Prime Minister was the most mentioned party leader throughout the campaign but Bill Shorten claimed the top spot for most of polling day, according to the Facebook statistics.
The site found the key issues being discussed by people on Facebook were benefits and social welfare, in contrast to the rest of the campaign that was dominated by talk about the budget.
Bellwether NSW seat to go down to the wire
Anger in the bellwether seat of Eden-Monaro is "red hot" with Labor candidate, Mike Kelly, saying Liberal rival Peter Hendy has rested on his laurels over the past three years.
The seat is expected to go down to the wire, having been held by the presiding government since 1972.
"There's an absolutely palpable sense of dissatisfaction with the current member," Mr Kelly said after voting.
"He won't engage with them and he's just lazy."
Mr Kelly, a former soldier, said different issues played differently across the electorate.
New ballot process confuses  voters 
Voters already struggling to understand a new senate ballot process could be confused by wayward instructions from electoral commission staff at  polling booths, an analyst says. 
But analyst Kevin Bonham warned today some candidates may have lost support after reports voters had been led astray.
"There have been reports some staff are telling people to vote for six parties above the line or 12 candidates below the line in the Senate and not using the magic words 'at least'," Dr Bonham said on his blog. "Some staff have even been reported as saying 'only' this number of boxes."
Voters can number as many boxes as they want below the line - as long as there are a minimum of 12 - and the more numbers, the stronger the power of the vote. 
Labour could take bellwether seat Eden-Monaro 
It's been a litmus test for the election outcome for more than four decades, but Eden-Monaro is now odds on favourite to lose its iconic bellwether status. Despite both major parties candidates declaring they are quietly confident of their chances of election, experts are predicting Labor candidate Mike Kelly will regain the seat he first won in 2007.
And with commentators, pollsters, and betting agencies alike predicting a return to government for the Coalition, Dr Kelly looks set to see off the NSW seat's iconic election indicator status.
Dr Kelly said the region was ripe for a change, claiming even hardened Liberal supporters had told him they were fed up with incumbent Peter Hendy, who locals claimed they never see.
''I've had a lot of Liberal people coming up to me, leaving messages on all my social media forms, saying for the first time in their lives and sometimes for the first time in the generations of their family they were going to be voting labor this time around,'' he said.
Dr Kelly said the people of Eden-Monaro were crying out for ''good community-based representation''.
''The tradition of Eden-Monaro members, when you look at any side of politics, Gary Nairn, Jim Snow, Allan Fraser, all understood the basic contract you have with this community and that's been broken,'' he said. ''And people are pretty angry about it.''
Dr Hendy, who has held the seat since 2013 after beating Dr Kelly with a margin of just 0.6 per cent, said he was ''confident, but not complacent'' about being re-elected. ''This area needs to have someone in government,'' he said. ''I am confident Malcolm Turnbull will remain Prime Minister and so the best position for the people of Eden-Monaro is to have someone sitting in the government party room.''
Bookies shorten Labor's odds
BETTING agency SportsBet tightened the odds for a Labor win from $8.00 to $5.75 today after bets tipping an upset victory flowed in.
"The majority of money is coming in today is heading Labor's way," Sportsbet spokesman Ben Bulmer told AAP.
Nick Xenophon candidate Rebekha Sharkie has seen a last minute rally in her support as she seeks to clinch the South Australian seat of Mayo from dumped former Liberal minister Jamie Briggs.
About ninety-five per cent of money coming in on polling day has backed Ms Sharkie.
She remains the $1.50 favourite with Briggs at $2.50.
Qld premier concerned about Hanson
ANNASTACIA Palaszczuk fears Pauline Hanson could be a divisive force in Australian politics if she claims one of the state's 12 Senate spots. 
The Queensland Premier, who spent the morning visiting polling booths with Labor's Oxley candidate Milton Dick, said she was "very worried" about the rise of minor parties, including Ms Hanson's One Nation. 
"She has the ability to be a very divisive person," Ms Palaszczuk told AAP.
"At a time when we need Australia to come together, I hope that if she does get elected that she respects individuals from across different groups."
Completely false: Coalition deny claims of assault in Higgins 
The Greens say one of their volunteers was assaulted in Armadale in the seat of Higgins in a dispute over election material.
Police say it's alleged a 48-year-old woman was sitting in a car last night when two men approached and made comments about election material.
The woman tried to take a photo of the men when the alleged incident occurred.
A spokesman for the Coalition says the claims are "completely false".
Police are investigating. N
o arrests have been made.
Higgins is currently held by Liberal MP and Assistant Treasurer
Kelly O'Dwyer,
on a margin of 9.
9 per cent.
It is believed a number of offenders attended numerous election polling booths in the Port Philip area, damaging signs and posters. The group attended a Brighton Road Street polling booth about 2:40am and police were called. Four men were arrested in Acland Street in St Kilda. A vehicle was searched and three box cutters were seized.
Greens scuffle: 'I think he bit me'
The man who was sitting in the car next to a Greens volunteer who was allegedly bitten by a Liberals supporter has described the "dramatic" tussle between the two as he was "pinned down in the car".
The contest is tight in the Melbourne seat of Higgins where Greens candidate Jason Ball could unseat sitting Liberal MP and Small Business Minister Kelly O'Dwyer (below).
Michael McCormack, Stonnington Greens branch co-treasurer was standing watch over election posters in the vehicle with a 48-year-old female colleague when two men, believed to be Liberal supporters, approached the car around 9pm last night, news.com.au reports.  
The woman pulled out her phone "because we've been advised that if people are feeling threatened, to pull out your phone", McCormack told news.com.au. As Mr McCormack sat there, he watched the "struggle" unfold.
"The  phone got dropped, [the woman] fell back and she said, 'I think he bit me'."
Mr McCormack said he didn't believe "she was bitten on the thumb, more around the hand, the bottom part between the flesh and the forefinger".
Police say the men fled the scene in a white SUV
Ahoy there: 'drunken' Pirate Party volunteers cause ruckus
Where else but Queensland? Police have been called to Sunnybank Hills State School, south of Brisbane, after reports volunteers for the Pirate Party were drunk. 
An onlooker, who phoned police, told The Courier-Mail they were drinking Fat Yak beers and were "falling down".
Police arrived at the scene after the volunteers had left.There is no further information available at this stage.
Ministers arrive at Liberal party function
Guests will soon arrive at the Liberal Party function in Sydney to begin watching the vote counts stream in. Ministers have begun arriving at the Sofitel Wentworth and going to rooms upstairs ahead of the official start time of 7.30pm. Malcolm Turnbull is expected to arrive in a few hours but is unlikely to address the crowd until he makes his official speech once an outcome is known.
Labor backers head to Moonee Valley
Labor supporters are slowly making their way into Moonee Valley Racing Club, where Bill Shorten will hold his official election night function tonight.
Mr Shorten, who voted at his daughter's primary school, earlier this afternoon will watch television coverage of the election night at home in Moonee Ponds with family and close friends before making his way to the venue later tonight .
He told reporters an hour or so ago: "I'm very confident of my chances locally, nationally we are competitive".
http://www.couriermail.com.au/news/national/federal-election/2016-federal-election-rolling-coverage-of-the-campaign-day-55/news-story/fb214c6afaa8fa2198a78b1c84e1d45a?&utm_source=Courier%20Mail&utm_medium=email&utm_campaign=editorial
http://www.abc.net.au/news/2016-07-02/election-2016-live-coverage-australians-head-to-the-polls/7562634