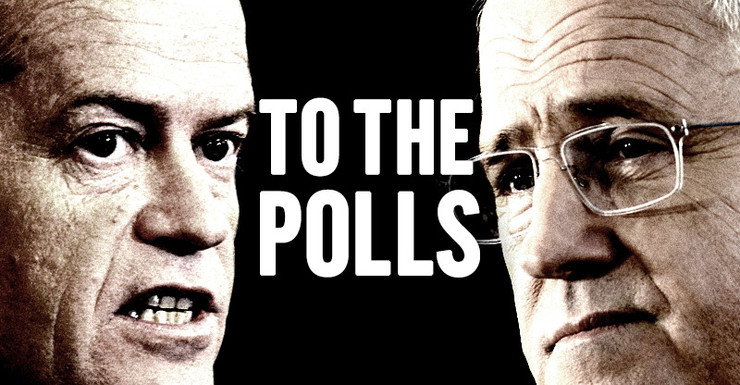 Federal Election 2016: A snapshot of what will happen today and how you need to be a part of it
It has been the longest election campaign in modern history, but finally we're at the finish line and it's time to put everything you've learnt over the past eight weeks to use and cast your vote.
Not sure where to go? What to do? Where to get a Democracy Sausage? Fear not.
We've got all your questions answered here.
They've changed the rules. How do I vote?
Voting for the House of Representative is still the same. You need to number every box on the green ballot paper in order of your preference. But voting for the Senate has changed somewhat. If you want to vote above the line on the white Senate ballot paper, you need to number at least six boxes from one to six in order of your preference. If you choose to vote below the line, you need to number at least 12 boxes from one to 12. Otherwise your vote may be invalid.
But what if I make a mistake?
All good. Just ask someone at the polling booth for another ballot paper.
Where do I vote?
The Australian Electoral Commission have a handy search function on their website which allows you to type in your postcode and find your nearest polling place. It will also tell you which booths have disabled access. You can find it here: http://www.aec.gov.au/where
What if I'm away from home?
Well, you were perhaps eligible to vote early or lodge a postal vote, but the deadline for doing both those things has now passed. So, if you don't want to cop a fine for not voting, best head to the nearest polling place in your state and get in the absentee voter line.
What time to the polls open?
Polling places open at 8am and close at 6pm.
Voting in Australia has changed a lot since the 60s so make sure you know what to do. Picture: Supplied
Has my electoral division changed?
Possibly. There's been a redistribution since the last Federal Election. If you're unsure visit the Australia Electoral Commission website and use their search function to find your electorate: http://apps.aec.gov.au/esearch/
Will there be Democracy Sausages at my polling place?
There's nothing worse than turning up at your nearest polling booth heady with anticipation of a sausage sizzle only to find out there isn't one. Luckily, the self-proclaimed Council of Australian Sausage has got your back. You can find out what kind of food will be available each polling place in the Election Sausage Sizzle Guide:
Who should I vote for?
Sorry, we can't help you there. That's on you. Choose wisely.