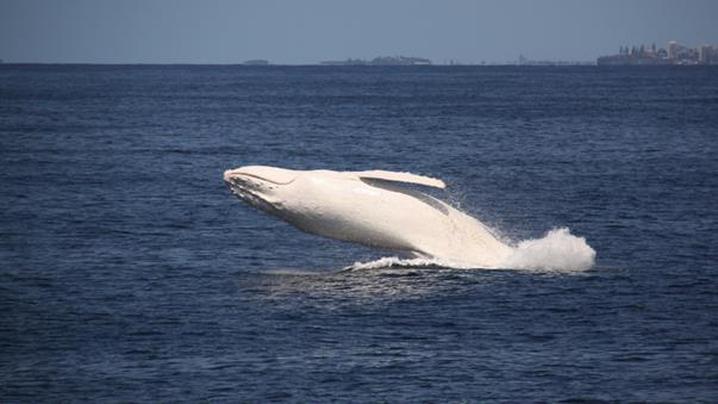 Experts unsure whether white whale spotted near the Gold Coast is Migaloo
Whale-watchers were today thrilled to see what they believed was the famous white humpback Migaloo, but experts have said they cannot be sure whether it was him or a relative.
The white whale was spotted swimming with another whale 18km off the coast of Byron Bay this morning, just south of the Gold Coast.
Whale-watchers on a boat off Brunswick Heads were among the first to spot the whale, and enjoyed a close encounter.
The famous white whale Migaloo has been spotted off Byron Bay during migration.
The white whale and his travel companion were still together when they approached the Gold Coast.
If the whale is Migaloo, it would be the closest confirmed sighting to Queensland in two years, but experts cannot be sure about the whale's identity.
"Migaloo is a much larger animal, older animal, the animal we saw today is smaller," Sea World's Trevor Long said.
Nonetheless, whale-watchers were thrilled to see a rare white whale, and could see Migaloo migrating later.
"We probably won't see these white whales come back until late September, maybe early October," Mr Long said.
This morning, whale-watchers eager to catch a glimpse of Migaloo gathered at the Cape Byron Lighthouse.
The White Whale Research Centre, which runs the Migaloo the Whale Twitter account, urged boaties in the area to respect Migaloo and keep their distance.
There have since been some concerns that the 500m exclusion zone for the rare whale may have been broken.
Source: 9 News