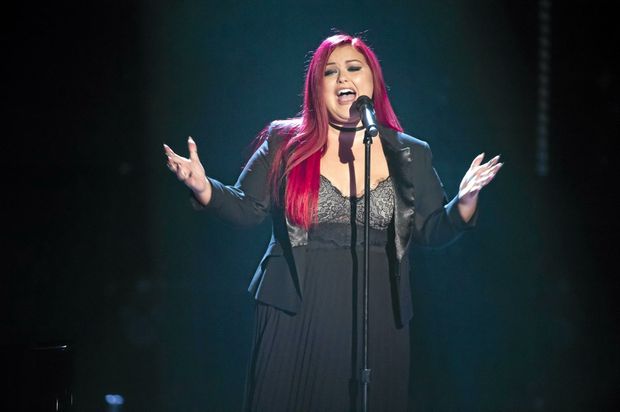 Elimbah's Ellen Reed makes it to The Voice finale
Elimbah's singer Ellen Reed is one step closer to being crowned the winner of The Voice.
The 28-year-old revealed her fighting spirit in the reality singing show's live semi-final on Sunday night, and is now one of four finalists who will vie for a recording contract and $100,000.
Ms Reed is through to Sunday's grand final thanks to an emotional performance of Pink's ballad Perfect.
Her performance and message for victims of bullying clearly resonated with the show's one million metro city viewers, who took to the show's voting app in a snap poll to vote her through over the Madden brothers' golden boy Andrew Loadsman.
Rock singer Loadsman was an early favourite to win the show and his elimination on Sunday night was a shock to many viewers.
"This is such a blessing to be here, and I never thought that I could be here," she said.
"I'm so glad I got to sing that song because it means so much to me. To everyone at home who's been bullied so badly and felt they couldn't do this, you can do it."
Her coach Jessie J helped her to channel her feelings about the rejections she has faced in the music industry into the song.
"I've been so impressed by you. Out of everyone on the show I think you've improved the most," Jessie J said.
"You don't give up, which is a quality that you should be so proud of... not many people have it."
Delta Goodrem is the only coach with two singers in the grand final after viewers voted for her singers Alfie Arcuri and Adam Ladell.
The Madden brothers Joel and Benji will sit on the sidelines next week after their other semi-finalist, Mackay's Aaliyah Warren, was also eliminated.
Ronan Keating's Tash Lockhart rounds out the four finalists.
Source: Caboolture News