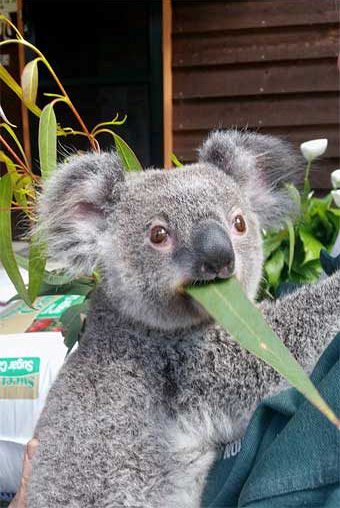 Dwarf gum tree project to help preserve urban koalas in Moreton Bay
A project to plant hundreds of dwarf gum trees across the Moreton Bay Region has begun in a bid to help safeguard the region's koala population in more ways than one.
Moreton Bay Regional Council and the Pine Rivers Koala Care Association have received 350 seedlings propagated by a University of the Sunshine Coast research team led by Associate Professor of Plant Science Stephen Trueman.
This is a special moment for Dr Trueman, who has spent nine years assessing which gum trees are most suitable for planting in South-East Queensland's urban areas, including backyards.
The Mt Beerwah mallee (Eucalyptus kabiana) trees will provide food for koalas, counter lost habitat, and help provide corridors between existing koala habitats to steer koalas away from roads.
Dr Trueman said the Mt Beerwah mallee, which grows to 6m in seven years, was a sister species to the koala's favourite food tree, the blue gum, which reaches 20m.
The USC team included research technician Tracey McMahon, Professor of Agricultural Ecology Helen Wallace, Research Fellow David Walton and PhD student Elektra Grant and received a $20,000 grant from Moreton Bay Regional Council in the 2007/08 financial year, and a $20,000 grant from USC in 2008/09.
The project to "design food and habitat trees for urban koalas" also required State Government permission to collect seeds from trees in protected areas.
"We looked at roughly 20 species from around South-East Queensland and we tried things like grafting on to shorter species, short populations of taller species, and also various short species, and we tested all of these in garden situations," Dr Trueman said.
"They either grew very tall and were not suitable, or were too stunted and died. The only tree that survived and stayed short was the Mt Beerwah mallee."
Dr Trueman said he was now expecting strong interest in the project from other councils, koala hospitals, community groups and private residents who live near koala populations.
"This is a gum tree that could potentially be handed out by councils for people to plant in their back yards and along streets as well," he said. "These trees are not going to cause the problems associated with large gum trees, such as falling branches and interfering with power lines."
Moreton Bay Regional Council Mayor Allan Sutherland said the council was proud to be part of a project that would hopefully help protect many koalas across the region.
"The potential for this new species to help steer koalas away from busy roads by providing corridors between existing koala habitats is very exciting to us," he said.
"We were very happy to provide a $20,000 grant to help with this research, and now congratulate the USC research team for bringing it to this stage where we can now plant the trees.
"We're looking to trial them in a range of locations and soil types across the region and have given some to the Pine Rivers Koala Care group to plant on their properties too. Hopefully this species will overcome some issues with larger eucalypts in urban areas, such as self-pruning of large branches, which can be a hazard to people and property.
 
Mayor Sutherland said the council's commitment to protecting koalas has included being a foundation funding partner in USC's successful research, development and field trials of a chlamydia vaccine that was already saving thousands of koalas.
Pine Rivers Koala Care Association president Glenn Adie praised Dr Trueman and his team for their work on this project that been supported by the association since its outset.
"As indicated by figures recently released by the Queensland Government, koala numbers in the Pine Rivers district of the Moreton Bay Regional Council area have suffered greatly over the past 18 years with an estimated decline in population of more than 50 percent," he said.
"Many people within the area are still largely unaware of the number of koalas in the region and the impacts on the population from development, wild dogs and disease."
Mr Adie said the distribution of Eucalyptus kabiana throughout the region would provide a great opportunity for Moreton Bay residents to have a positive impact on the future of the local koala population.
"Once we have been able to demonstrate the dwarf growth characteristics are retained through a variety of planting conditions, we will work with Moreton Bay Regional Council to fill the spaces between areas of development with these trees," he said.