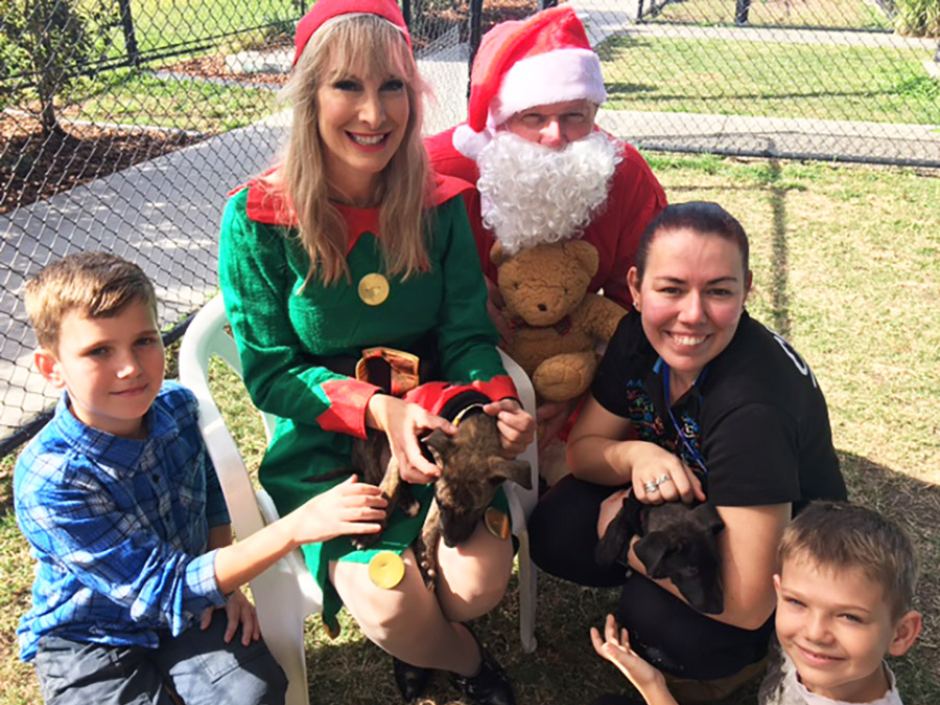 Christmas comes early for four-legged friends in Brisbane seeking a home
Santa Claus has lifted the spirits of hundreds of pet lovers at the RSPCA's Christmas in July celebrations in Brisbane.
But while he came bearing gifts for the 200 animals up for adoptions he also had a serious message for families planning to take one home.
"Adopting a fluffy little kitten or a cute puppy is not just for Christmas," Santa said.
"It becomes a member of your family.
"You really want to make sure you are prepared to have it forever."
The RSPCA has 200 dogs and cats up for adoption at its Wacol animal shelter.
Santa's elf Rhiannon said plenty of domesticated reptiles were also looking for new homes, including turtles, carpet pythons, coastal pythons, blue-tongued lizards and bearded dragons.
Laurece Yzelman with Connie the kitten and Nareen Panesar.
(ABC News: Lexy Hamilton-Smith)
Animal lovers can also become foster carers, offering temporary care for a wide range of animals.
RSPCA carer Laurece Yzelman said they are looking for people who could be animal welfare advocates and were willing to open up their hearts and homes to one in need.
To be a carer, you must be at least 18 years old and have a secure environment for housing pets.
RSPCA Queensland spokesman Michael Beatty said the Christmas in July party also helped raise funds for services which cost $42 million a year to maintain.
"The RSPCA receives less than 1 per cent of funding from Government," he said.
"It is also an education day to focus on animal welfare."
During his quick visit from the North Pole, Santa played with two baby bull Arab crosses looking for a home and a kitten called Odie in need of foster parents.
"One good way to get on Santa's good list is to be kind to animals," Santa said.
Dog owner James Beel visited with his pet labrador Zac
(ABC News: Lexy Hamilton-Smith)
Source: ABC News