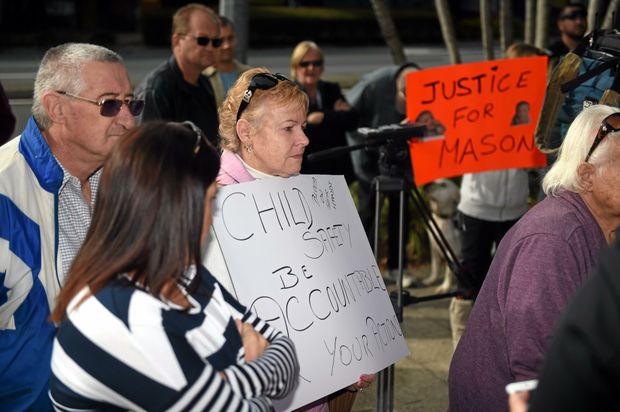 Caboolture has had enough with lenient sentences
The word is out and it is loud and clear, comments from a story that came out last week regarding a Young girl repeatedly tortured by mother in Caboolture home has resonated with the public enough to comment that sentences handed down are not enough to fit the crime.
A mother and her former de-facto partner have been jailed for torturing the woman's five-year-old daughter at a house in Caboolture over a period of more than a year.
The punishments included locking the child in a bedroom for hours at a time, not allowing her to use the toilet and forcing her to endure boot camp-style exercise to the point of exhaustion, the court was told.
Neighbours also reported seeing the little girl locked out of the house for hours with the family's dogs, where she would scream and cry for help and ask to be let inside.
The court heard how on occasions when the child supposedly misbehaved, or soiled herself, her mother would call the older male friend to come to their house and inflict punishment, including hitting her across the bottom with a stick, rubbing her nose in faeces, forcing her to eat curry powder and occasionally pouring cold water over her.
"The mind boggles when one hears that a child had to endure these events over an extended period of time, some 15 months," Judge Chowdhury said.
Lawyers for the victim's mother told the court the woman had a "violent and dysfunctional upbringing" and had also been the victim of sexual abuse.
Judge Chowdhury sentenced the woman to three years in jail, suspending the sentence after three months.
She will be eligible for parole in October.
The child is likely to be scarred for life while the mother can resume her life after October this year, clearly this is not justice from the comments received by both men and women of our community
Paul Szymanski Are you serious? That's all they got? My god, what the hell is this world coming to? It makes me sick to my stomach to think of what these kids have to live with. Hope karma gets them in jail.
Melissa Chambers Heartbreaking. I'm in tears after reading that. I cannot comprehend how anyone could ever treat a child that way. I feel sick to the stomach. These poor, innocent children will never be the same again. They will suffer the consequences for the rest of their lives and yet the perpetrators receive such lenient sentences. Where is the justice? ;'(
Gloria Herrmann There is no justice, Melissa. They will never become who they could have been. They will never trust. It sickens me, I wish I could bring them home, and give them the love they deserve. Jail them for a very long time, no parole , no excuses.
Julian Rhodes Muir Can someone get word to the paternal grand mother (and the carers of the other kids in this too) to get in touch with their medical support teams, and the police to instigate contact with B.A.C.A. who will provide a lot of help for these kids, and if you have never heard of them, google them, and watch what will bring tears to your eyes. Well more anyway.
They are a great bunch of people I was lucky enough to have dealings with a chapter forming in Canberra over the past couple of years. They may already be there, but if not they might be invaluable to these kids.
The issue of child safety is being compounded by multiple cases locally involving the death of another child resulting in multiple investigations under way after it was revealed Mason was admitted to hospital several months before his death with injuries including a broken leg and ruptured bowel.
The decision to allow him home – where he later died – is now being questioned.
It is now understood police now believe the 21-month-old toddler had already been dead for hours after suffering months of terrible abuse.
Police and paramedics have undergone counselling after being called to the Caboolture home on June 11 where Mason lived with his mother's estranged partner and another child.
His injuries have been described as "horrific" and covered every inch of his body.
An online petition calling for greater protection for children known to be victims of violence has been set up by a member of the public and had yesterday gathered more than 1100 signatures.
It should be noted that the Queensland Parliament is where laws are made and amended.
Those that believe that there should be  changes to the laws regarding cases like this, should lobby your local member of Parliament.
Are you effected by this story, if so you can now email us your contribution.   Email News at 101.5FM***
***  when you click Email 101.5FM your email client will load, and have our email address inserted for you and the subject so all you have to do is type in some stuff to send us easy huh ?
SMS Yes SMS on your phone Note: in place of a phone number simply put in this email address ---> radio@1015fm.com.au
First Line of the message should be subject:Attention 101.5 FM News and you can also attach photos.
Phone 07 5495 1015