Bull sharks invade pine rivers but no warning signs
A fisherman who filmed a shiver of bull sharks swimming in North Pine River last month is calling for warning signs to be erected to warn the public.
Stephen Jolly, who runs the Moreton Bay and Surrounds Sportfishing Facebook page, filmed 15, 1m bull sharks swimming in the river at Youngs Crossing, Joyner, on June 3.
He had never seen so many sharks in the one spot in all his years fishing the waterway.
"There needs to be some kind of signage on the banks of the river, because people either have no idea or they don't believe there are sharks in the North Pine River," he said.
"(The sign) could say, 'Swim at your own risk, sharks frequent the area'."
Sightings have been reported in the river for many years.
"They've always been there, it just surprises me people don't believe it," Mr Jolly said.
"Sharks seem scarier to the public, but there's other things in the river that I would be more wary of, ­including the freshwater stone fish, eels and turtles."
An Seqwater spokesman said signage in and around Young's Crossing was the "responsibility" of Moreton Bay Regional Council.
A Moreton Bay Regional Council spokesman said it would be "impractical" to install signage along North Pine River's banks.
"Bull sharks are one of many species of animal in the Moreton Bay Region and throughout southeast Queensland that could ­potentially be dangerous to humans, and it would be ­impractical to install advisory signage across all of the region's reserves, waterways, beaches and wildlife areas where potentially dangerous animals may be present," he said.
"(The) council encourages residents to exercise caution when entering all waterways and to be aware that sharks and other potentially dangerous animals are likely to be present."
Great White Shark near Cape Moreton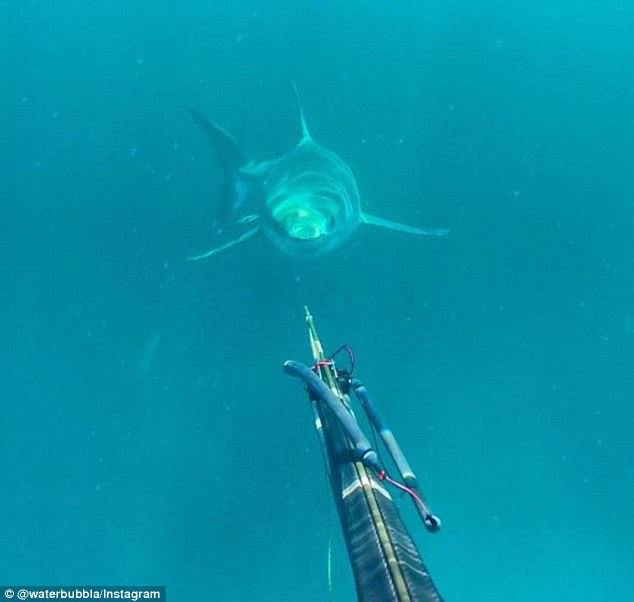 Meanwhile a quick-thinking diver who came face to face with a monster great white shark jabbed it with his unloaded spear gun when the man-eater came within striking distance.
Brett Livingstone was diving with friends Jamie McCully, Anthony Sercombe and Kurt Zietlow when they spotted the four-metre predator lurking in the depths 2km off Queensland's Cape Moreton.
After circling around peacefully the shark changed its course and made a beeline for Mr Levingston, who poked it with his spear in the nick of time.
Jamie McCully told Daily Mail Australia the friends were surfacing from about 10 metres when the shark appeared behind him.
'I turned around and it was right there. It's a very intimidating predator to see up close.'
Things took a terrifying turn when the shark changed its course and headed straight for Mr Levingston, who was looking in the other direction.
'I didn't see it coming' said Mr Levingston. 'I only realised when I heard Jamie calling out what was going on. Once I saw it it was fight or flight.' 
He said he suspects it would have given him an 'inquisitive bite' if he didn't thrust the spear into his nose. 
'They don't have any arms, so that's how they do it.' 
When the creature descended back to the depths, the mates decided to cut their losses and get out of the water.
'We were pretty stoked, I was squealing like a little girl at the time. It was pretty unforgettable.' 
There have been over half a dozen fatal shark attacks recorded in the Moreton Bay region, including a four-metre great white shark killing surfer Michael Docherty, 28, while he was out surfing in 1992. 
Sources: Quest News and Daily Mail UK